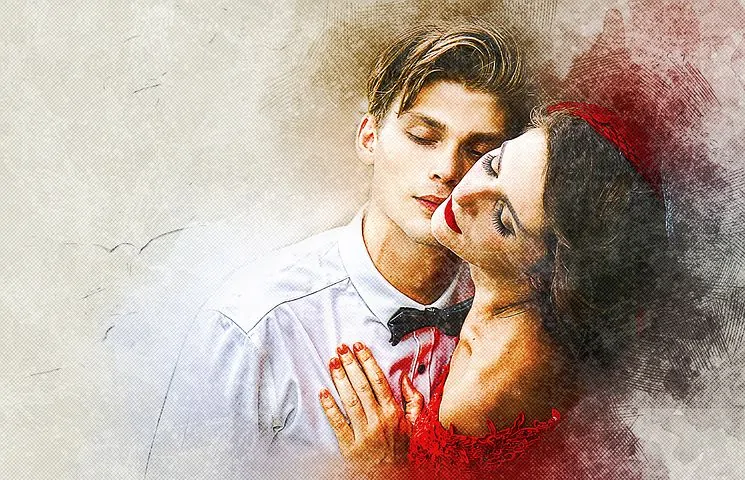 Are you searching for best I love you messages for Him , sweet love text for Him ,Messenger romantic messages , Instagram romantic cards ? .
Your boyfriend really loves you and has many precious details with you, but you should also worry about sending him cute love messages so that he knows that you love him too.
What do you think if you take advantage of this moment to send tender love words to your boyfriend highlighting what you like most about him and declaring your feelings?
:: "Your love is like the sun, with your light you illuminate my heart and fill my world with the most precious colors. I adore you."
:: "When you hug me I feel like I'm melting; and when kissing me it seems that I am flying among the clouds; I just want us to be together forever".
:: "I wish to have a long life by your side and to become the reason for your greatest joys. I love you with all my strength!"
:: "You bring to my heart a love, you are the most handsome, intelligent and tender man I have ever known. You fascinate me!"
:: "I love to contemplate your eyes not only because they are beautiful but because I seem to see the purity of your soul in them".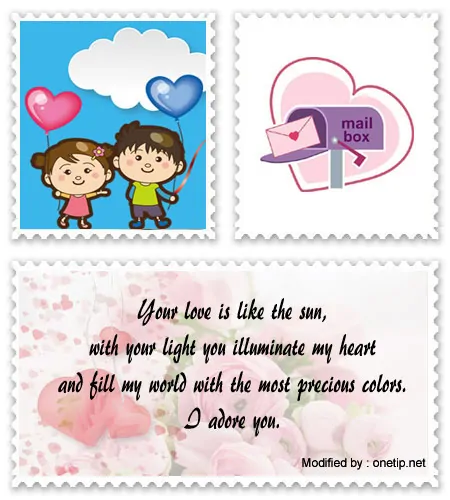 :: "My love for you is so strong that there is no human power that can rip you from the bottom of my heart. I will love you all my life!"
:: "Just remembering some of the many romantic moments we have shared I feel like I completely melt. I love you like I never imagined it would be possible!".
:: "You and I love each other so much that I have no doubt that when we are no longer in this world we will continue to do so until the end of time".
:: "Every time we have to say goodbye, I feel a little pain in my heart that does not go away until I see you again, it is because you are already part of me. I love you, my dear!".
:: "You are a very brave and strong man and you have a heart so sweet and tender that I completely fall in love. You are perfect for me!"
Most romantic quotes &
cute ways to say 'I Love You'
:: "You found me with a sad heart and now it beats with happiness because with you I found true love. I adore you darling."
:: "You entered my life without permission and as if it were not enough you stole my heart, but do not worry about anything because I love you as I have never done before".
:: "In each new dawn I have a very special purpose, to steal many smiles and awaken a lot of love in your heart. That makes me really happy!".
:: "Every day I strive to find a new way to love you and to show you that it is our destiny to be together forever".
:: "Your beautiful love words enchant my heart and each of your beautiful details show me that your feelings for me are true. I adore you!"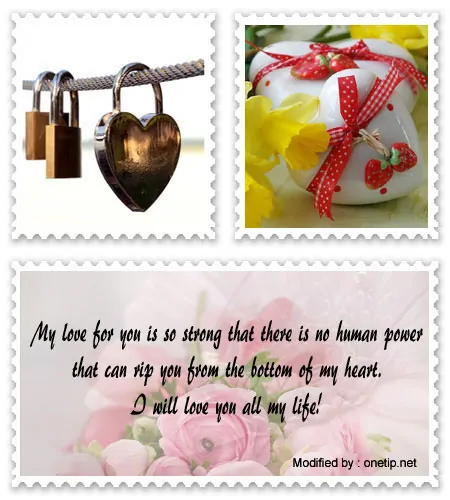 Romantic phrases that melt hearts
:: "I confess to you that I was one of those women who thought that men were all the same, but with you everything was different, you are the most wonderful man in the world".
:: "You gave me back my desire to live and you made me believe in love again, it is something that I will thank you for the rest of my life giving my heart to you".
:: "Your voice melts me completely, it is as if it told me much more than the words I hear, perhaps it is because it is born in the bottom of your heart".
:: "In your company I find refuge to all my problems and comfort my pain, but as if it were not enough, in you I find the purest happiness. You're everything to me!"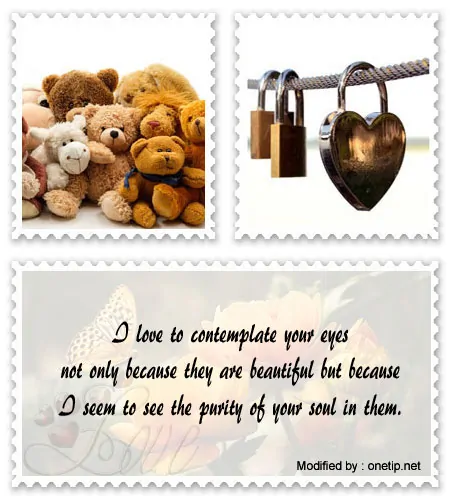 :: "Our love emerged like a flower in the middle of the desert, nobody believed in it, just the two of us and now everyone congratulates and admires us. I love you!"
:: "I want that destiny would allow us to be together forever so that our happiness and love never end. I adore you darling."
:: "All the romantic words spoken by your mouth reach the depths of my heart and completely shake me. You are the love of my life!"
:: "I hardly remember what my lonely and sad days were like, since you are by my side I am the happiest man in the world. Thank you for such tender love you give me!".
:: "You have the power to make me fall in love with a tender look and a nice smile; it is because you fascinate me and my heart melts for you since I met you".
:: "I can't believe how I could go through so many years without the most important thing in this world: you, my love. I want to be with you forever!"
:: "You are already the reason for my happiness, your presence alone is enough for a huge smile to be drawn on my face. I love you very much, never doubt it!".
:: "First you turned my world upside down, then you completely drove my heart crazy and it's the best thing that could ever happen to me".
:: "Love is magical, it shows us our most tender side and brings out the noblest within us. I adore you, sweetheart!".
:: "The time next to you passes too quickly, I want to share with you each every day in my life and so that our love would be eternal".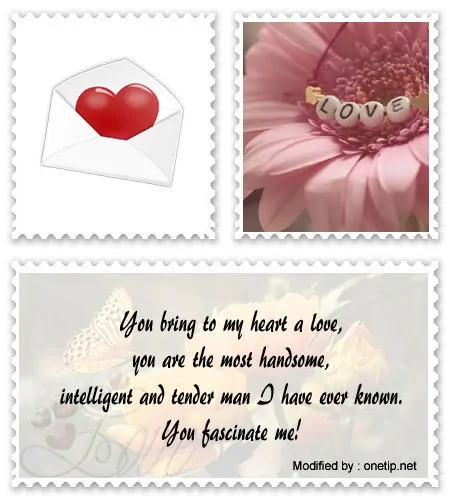 :: "I was born to love you, I have no doubt of it because I have never been so happy until I met you. My heart beats for you honey!"
:: "In the stars a love story is written that would change the lives of two people forever, it is our story and we will forever share this beautiful feeling".
:: "I would change years of my life just to spend a few hours with you because I love you with all my strength and I know that I will do it for all eternity".
:: "I love you for everything you are, you are a complete, honest human being, my soulmate and what I want most in this life is your happiness".
:: "We love each other so much that just by looking into our eyes we can dedicate ourselves to the most romantic poems that melt our hearts".
:: "I am fascinated by dreaming about you, but our love is so amazing that it surpasses any fantasy. I adore you and I am very happy by your side!".
:: "When we kiss, it is not only our lips that have contact, our souls merge in a heavenly dance of love. I want to be with you forever".
:: "You have become the brightest star in the sky that captivates me with its light and makes me want to fly to reach it".
:: "When I tell you that I love you, I am saying more than some nice words, I am expressing to you the purest and deepest feeling that lives within my heart".
:: "I promise to hold you very tight and thus feel very close and never let you leave my side. I love you with my whole soul!"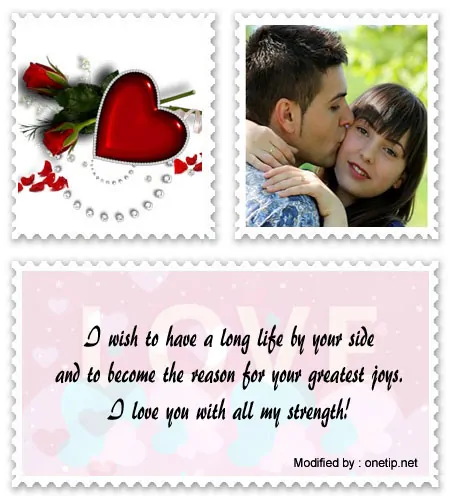 :: "I don't care if people tell me that I have changed a lot, I love you and for you I am willing to become a new man".
:: "My heart beats like crazy every time I am by your side, That's a big proof that I really love you. I am sure that I will love you always".
:: "I bless heaven for having sent you into my life as if you were an angel of love. I will take care of you, I will bring you happiness and I will adore you every day of my life".
Keeping conquering your girl's heart will be easier with these tender love thoughts to share at any time of the day. Whatever happens, never stop treating your girlfriend with cute romantic phrases to melt her heart.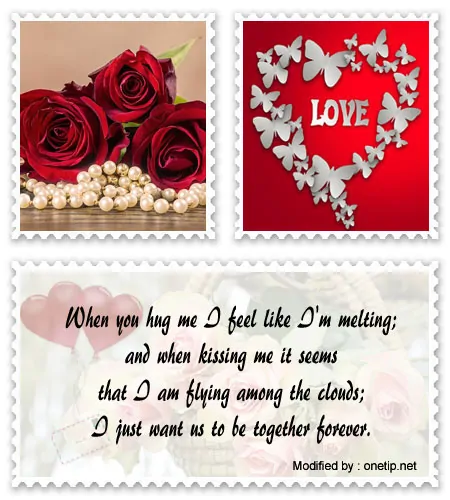 Images credits :
Imgages I love you messages courtesy of "pixabay.com" Modified by : onetip.net
If you liked this page you can help us sharing with your friends on Facebook,Instagram,Messenger,Twitter,Whatsapp. Also if you want you can help this website by sending your originals I love you messages for girlfriend, and will be published, others friends will thank you .
as07fg06bn22de**