It is normal to get home tired and wanting to sleep soon, but we cannot miss the opportunity to share beautiful and romantic good night greetings with the person we love.
Your heart is full of many beautiful feelings towards that person who has conquered you, so why do not send him beautiful good night phrases?
Do not wait any longer, choose any of the sweet texts to wish good night that we have prepared to help you in your relationship and make the love of your life sigh.
:: "The day seems so short when I enjoy your company, but night is so long when I don't have you by my side. Goodnight my love."
:: "How to go to sleep without sending you a message full of all my love with many good night kisses? I love you, my dear. "
:: "The darkness of the night has been complicit in more than one of our romantic adventures. I want us to sleep tonight thinking about each other. "
:: "The best thing about going to sleep is that I can take you in my arms and thus travel together to the world of our dreams."
:: "Sometimes I feel that I am in the middle of a dream and when I dream of you I feel that it is reality. The only thing I am sure of is that I love you as I have never done. "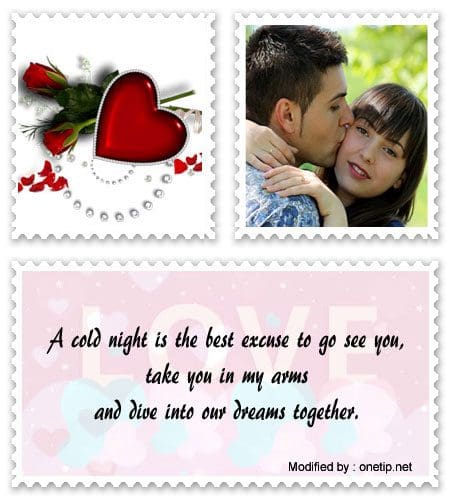 :: "A cold night is the best excuse to go see you, take you in my arms and dive into our dreams together."
:: "The nights by your side are unforgettable, they are like the first time, the most beautiful experiences and a dream come true. See you tomorrow my life."
:: "Don't worry about me, I will have a good night because I plan to dream with you until dawn. Have sweet dreams."
:: "Rest well love, tomorrow a wonderful day awaits us, a new opportunity that life brings us to meet and enjoy our love."
:: "May your heart overflow with the moonlight and make you dream awake with a beautiful future together. Good night princess."
:: "You have given me an unforgettable day and you have won hundreds of kisses in return, I hope to see you soon to give them all to you. Sweet Dreams."
:: "There is not a girl as sweet as you, the tenderness of your heart really moves me and makes me burst with love for you. Have a good night."
:: "At this moment I am in search of a shooting star for a wish to ask: spend with you our entire life."
:: "Your voice is so sweet it's like a stream for me, I love to remember it again and again and fall asleep thinking about you. See you tomorrow."
:: "Tonight I am dreaming of you and when waking up the love I have for you will be bigger than ever. Goodnight."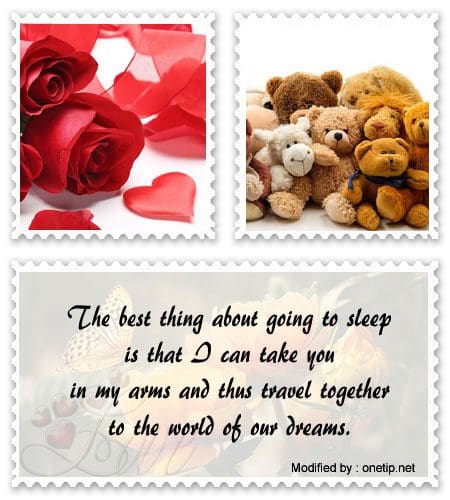 :: "I hope that in these words you can find the great love I feel for you and that our hearts would begin to beat as one. Sweet Dreams."
:: "It is so difficult to sleep when I do nothing but think about you and all the beautiful moments that this day brought us. Have Sweet Dreams honey"
:: "I wish the sun would rise early and the day would start because I can't resist any longer without seeing you."
:: "I wish you good night and I send many kisses to you, beautiful woman who dazzled my heart."
:: "Tomorrow will be a new day, another chance to conquer your heart and show you that for your love I can achieve everything. Have a good night darling."
:: " I wish there would be a way to extend the day a few hours to enjoy them all with you. Sweet Dreams my love"
:: "All those stars that shine in the sky make me think of you, in those beautiful eyes full of love. See you tomorrow my princess. "
These romantic words to wish good night will be well received by your girlfriend so do not hesitate to send more beautiful love texts to share, it is the best way to make her really happy.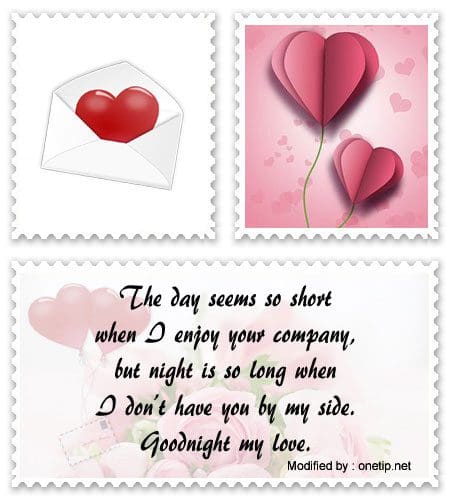 What couple does not let its imagination fly contemplating the stars and feel inspired to dedicate romantic good night words?
Surely at night you will feel like sharing beautiful good night phrases to your partner to show your feelings and make him/her feel very special.
With the following beautiful good night messages for your partner you can help him think deeply about you and fall asleep peacefully.
:: "I look forward to the arrival of dawn so that the first rays of the sun announce the beginning of a wonderful day, another opportunity to be by your side."
:: "I would like to get lost in your dreams tonight to show you that your fantasies can come true. Goodnight."
:: "Do the stars really govern our future? If so, I would love to find our star, the one that joined our paths to never separate us. Sweet Dreams."
:: "Even during my worst days a single smile of yours brought peace, happiness and love to my heart. See you tomorrow, my dear. "
:: "The day is over, but what I feel for you is eternal. Sweet dreams, heart."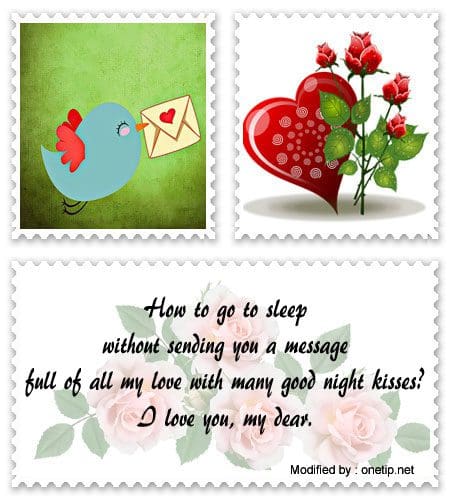 :: "Good evening, love. I don't know what shines the most; if the moon in the sky or my eyes when I see you."
:: "I fall asleep thinking of you and awake with much more desire to live. Sweet Dreams honey."
:: "I miss you during the day, but much more at night. I love you, Sweet Dreams."
:: "I do nothing but dream about you every night, it is my heart in love that only has space for you in it. I love you."
:: "I want to be the last person you see before bed and the first person to wake up, I want to share my dreams and hopes with you forever and ever."
:: "My life, may you have a comfortable dream and may your first thought upon awakening be me. I love you."
:: Let everything beautiful you dream tonight come true tomorrow. I adore you, remember it at all times. "
:: "I sleep feeling calm because I know your love is real. Thank you for so much joy, Good night darling."
:: "Sweetie, get ready to sleep, but first answer this message by telling me that you love me as much as I do."
:: "My love, it's time to sleep, but once again I want to tell you that you are my reason for existing. Good evening."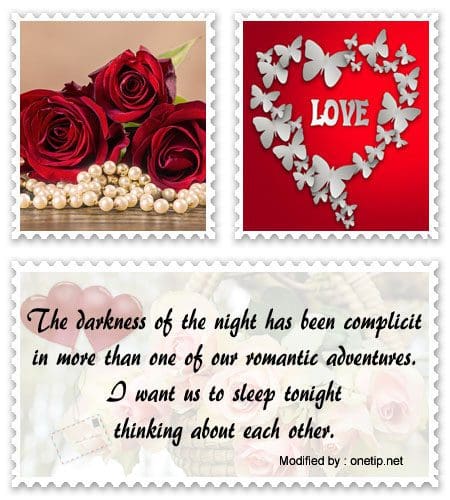 :: "This love is so beautiful, day and night it makes me feel the luckiest person in the universe. See you tomorrow, honey."
:: "Today we spend a spectacular day and I will go to sleep smiling when remembering every moment. Good night princess."
:: "I would do anything to give you a good night kiss and sleep hugging you. I hope that dream would come true soon."
:: "The sky has darkened, but my life is illuminated by the magic of your love. Sweet dreams, heart."
:: "I can't sleep without telling you that you're a special person and I'm happy to have you with me. Sweet Dreams!"
:: "Your love gave me the desire to live, dream and fight. Good night darling."
:: "If possible, I would write this good night greeting with all the love words that exist and with many more that I would create for you."
:: "Tomorrow we will meet again and I am so happy for that. Sweet Dreams, my love, I adore you."
:: "Make the most of these hours of rest, thanks for making this day perfect. I adore you."
:: "I send you many good night kisses, remember that my love for you has no end."
:: "Together and happy forever, that's how you and I will be and not only in our dreams but in real life. See you tomorrow, my love!"
:: "I have always believed that dreams come true so please let's dream that we are together and happy forever."
You will notice that your partner will be so happy after you send him some beautiful good night texts, so why do not continue to cultivate your relationship? Visit us every time you want to share original and beautiful romantic phrases.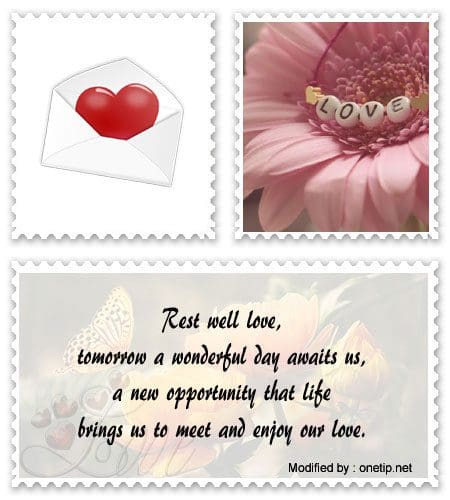 Credits :
Images credits : Image courtesy of "Pixabay.com" / Modified by : onetip.net
If you liked this page you can help us by giving us a "like" on facebook, twitter. Also if you want you can help this website by sending your best sweet good night messages, and will be published, others friends will thank you
as10fg04hj20yu