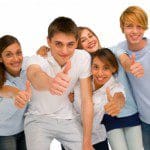 Cute Friendship Messages
Being able to have a friend is the most beautiful present that the Lord could have given us. Friendships are like the possibility of extending our families, of having adoptive siblings with other people and of feeling always accompanied, appreciated and valued, with unconditional support that will last forever.
Beside our friends, we get to live everything, experience wonderful things and have the most fun of all the anecdotes. Sometimes it is sad when, for different reasons and circumstances, we are currently away from the people we appreciate, because we may have a friend that is far away now, perhaps because he went to live in another country or simply because our routines turned incompatible as time went by.
Whatever it was that happened, it never hurts to let you friend know how much you still appreciate him or how much you like him, especially tell him how much you miss him and how much you would like for him to be around. So you can do it the best way, we offer you a series of phrases you can use as a model.
Free list of friendship messages:
– "Dear friend, I am so sorry to see that there has been a separation between us and it becomes impossible to me not to miss you. However, even now that we are so far apart by thousands of miles, I think our friendship is stronger than that and everything else, because in my heart I still feel as close to you as ever. I hope you know that I will always be there for you, no matter what day it is or the time difference. I appreciate everything you have given me and you keep giving me. "
Category :friendship messages
– "You went away and a part of me went with you, dear friend. However, I still have all the memories of the experiences we got to live together and I am sure that they will accompany me for the rest of my days. I wish you all the best, today, tomorrow and forever; I adore you. "
Category :friendship messages
– "I beg the Lord to extend His protection and that he blesses you always, no matter where you are. I hope that sunlight illuminates your path and allows you to discern between good and evil every morning, because that way you will get very far. I miss you so much, dear friend; is not my intention to hurt you, I just want you to know that sometimes I wish we were a little closer and that we do not lose contact with each other. "
Category :friendship messages
– "The one who has been fortunate to share a true friendship knows what being a millionaire is. With you I feel that way, like a million dollars, as if I had won the lottery. Even now that we are separated by a physical distance, as long as we keep the same mental connection we have, everything will be fine. I appreciate your eternal friendship. "
Category :friendship messages
– "The moments and experiences I lived by your side were always the best. Thousands of memories of all the experiences we have been through come to my mind, and it is inevitable that a sincere smile comes to my face for longing those amazing times. I hope we meet soon and that we can be happy again, like those times when the laughter was the rule at all times. Definitely, today I would not be who I am today if I had not grown up by your side, you were always teaching me how to be a better person and to appreciate all that I had, all that will remains engraved in my heart. Again I thank you for everything, my friend. "
Category :friendship messages
– "Dear friend, you do not know how much I miss you. I am happy because I know that you will soon be back at home, where we will meet for sure to have a great time together and relive the memories of the past. Please let me know when you arrive, because our reunion cannot wait. "
Category :friendship messages
You will see how nice it will be for that friend of yours to hear from you, no matter how separate you are, it is always nice to get to know of the people we love and that me miss very much. Dare to express what you feel for them, and you will see that you will also feel good for doing it. We hope to see you soon, remember that we are updating our website constantly with content designed your needs. See you soon.
Image courtesy of "Ambro" / FreeDigitalPhotos.net
If you liked this page you can help us by giving us a "like" on facebook, G+, twitter. Also if you want you can help this website by sending your originals Sms, text, text messages, quotes, friendship messages, and will be published, others friends will thank you .
Tags:
friendship messages, friendship phrases, friendship sms, friendship text messages, friendship texts, friendship thoughts, friendship wordings, friendship quotations, friendship poems, friendship verses