Searching for best romantic messages ? .Perhaps there is not a single person who has not experienced love at some time in his life, which is why we want to present beautiful romantic words to share with that person who has won our hearts.
We can all enjoy love and for it to last we must take advantage of all the moments that life gives us to share romantic messages with our partner.
You do not need to have great knowledge of poetry, you just need to sincere your feelings through the beautiful love phrases to download that we bring you.
:: "Let's dance today and smile since life is now and your love gives me blissful. I adore you my princess"
:: "My heart was shipwrecked until it reached the safe harbor of your love and there its anchor hooked."
:: "If I look at the sky or at the sea, you are in every corner and in my thoughts I take you like the leaves that go to the rhythm of the wind."
:: "If I have you close I think it's a dream and if you're away I think of you all the time, even in the distance I feel your soft kisses."
:: "If you were a flower you would stand out in the whole garden because your softness makes you unequaled and your beauty surpasses others."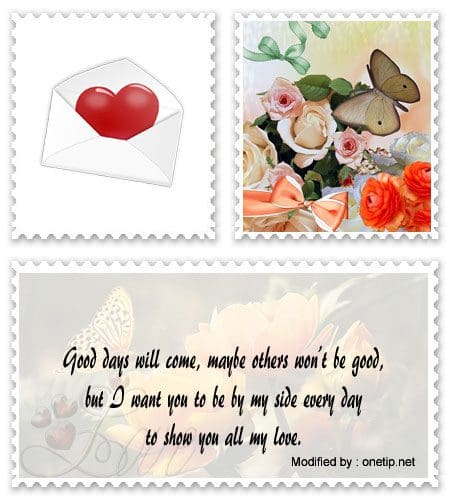 :: "Good days will come, maybe others won't be good, but I want you to be by my side every day to show you all my love."
:: "This true love lives in your heart and mine, and it is such a beautiful feeling that has united our lives forever."
:: "You enlighten my life and every day you give me a new reason to keep fighting to see our dreams become a reality."
:: "You have taught me to smile and thanks to you I can say that I have finally known what it is to love with all my heart."
:: "Your charms have seduced my eyes, but it is your interior that makes me crazy with love. I send you a big kiss."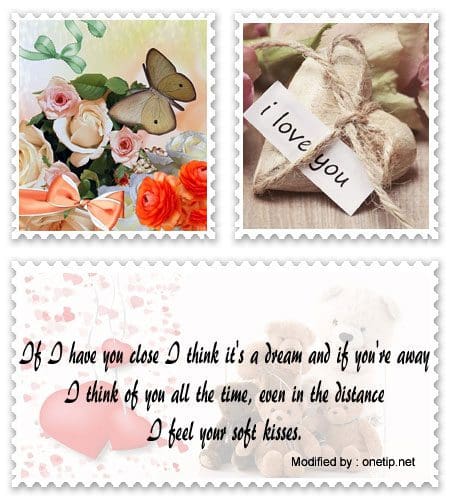 :: "I close my eyes and I can dream of that perfect future we are building, based on pure love."
:: "You have me trapped with that unique beauty and every day you make merits so that I love you more."
:: "I am with you and that makes me very happy, because you are a gift that life has given me and I promise that I will always take care of you."
:: "For me there is nothing more important than our relationship and your happiness will always be my priority."
:: "Your kisses are my inspiration to write you poems and your words are for my soul a sweet melody."
:: "Among so many people I found you because you shone with that infinite beauty and then your tender smile conquered me."
:: "It doesn't matter if I laugh or cry, I lose or win, I walk or rest because if you are by my side every moment will be full of happiness."
:: "Every day I feel that I have given you all my love, but the next day I realize that I still have more to give you."
:: "You fill every void in my heart with the tenderness of your love and rejoice every day of my life with just one of your smiles."
:: "A love as great as this one has never been seen in this world, this treasure we found is ours and will make us happy forever."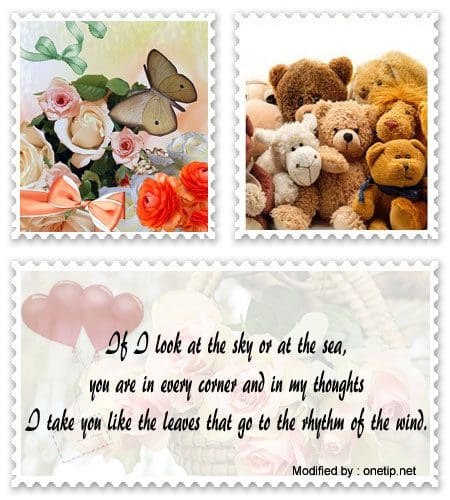 :: "In life everything can change; what is there today, will disappear tomorrow, but rest assured that this love will always be the same."
:: "The past is no more there; all we have is the present to fully enjoy this love."
:: "Every time I see you arrive my worries fade away, my heart speeds up and the greatest of smiles appears on my face. It is the love that reached my heart!"
:: "Even if great storms take place in the sky, the smile on our faces will never be erased because our love will forever be in our hearts."
:: "My heart sighs incessantly for you, wishing for your presence and when you are beside me, it jumps celebrating how much I love you."
:: "I thank you for so much love and for being the motivation of my life to move forward and constantly strive to be a better version of me."
:: "You are the most important person for me and if I tell you that I love you with intensity and passion it is because I feel it in my heart."
With these romantic texts to send to your partner you will be able to conquer his heart deeply and if you want that during all your days love continues to bring you joy, always share beautiful love words with your partner.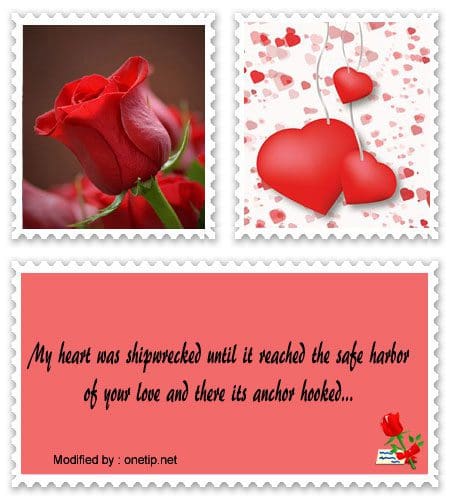 People have always been able to find in the cute love phrases the perfect means to conquer that special person in their lives.
Nowadays, technology has opened many doors and has given us a lot of tools to dedicate sweet romantic messages to our partner.
Use social networks to reach your boyfriend's heart directly by sharing beautiful love dedications with him. You will see that you will make him sigh in love for you.
:: "I am not a poetess, however I try to find the most beautiful words to express to you this love so great that I feel for you. I adore you."
:: "The more time passes I have more confidence to say that you and I are made for each other and that our destiny is to always be together."
:: "My heart and yours complement each other, now I can understand why I felt a void, during all these years, and that it was only filled with your presence."
:: "Do you know what makes me the most happy in this world? It is seeing you smile and enjoying my company. "
:: "I love you deeply, I love you just the way you are and if I had the chance to change anything in you, I wouldn't do it. You are my illusion of living. "
:: "Blessed is the day on which our paths crossed because it was when our love at first sight was born."
:: "Those times in which my heart was broken have been left behind, now everything is love and happiness in my life thanks to you."
:: "All the smiles that your love awakens in my heart are the most sincere that I have ever had."
:: "My heart was sore and broken, but you rescued it, you returned my lost faith and brought happiness back to my life. You cannot imagine how much I thank you!"
:: "I love you "are two very simple words, but they contain an infinite universe inside them, they are my feelings towards you."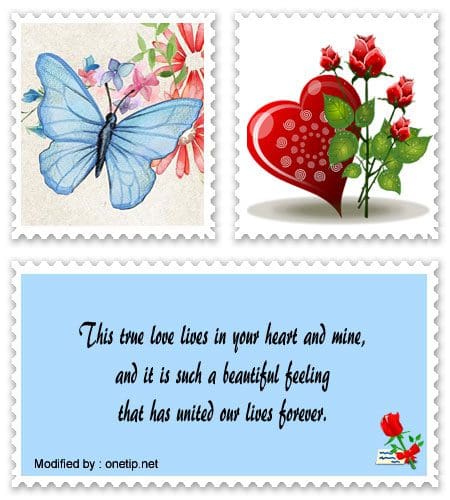 :: "The beat of your heart is my favorite melody, it is the love song that you play for me every day."
:: "Our kisses are more than our lips having contact, it is our souls that touch each other and our hearts that fall madly in love."
:: "Just make me the promise that you will love me forever and my heart will be yours for the rest of our lives."
:: "A few lines of love are those that sprout from my heart to tell you that I adore you and will forever be yours."
:: "I don't find a greater desire than just seeing you and feeling you at every moment of my life. I love you unconditionally my heart. "
:: "I send you this message to tell you that you came into my life just when I needed you most. I adore you my love. "
:: "Meeting you did me good, you falling in love with me gave me a great illusion and loving you for the rest of my life is what my heart desires."
:: "Every hug of yours is like a caress for my soul, I feel very happy to love you and I know it's reciprocated."
:: "You are the illusion of my life, a feeling that will soon be a beautiful reality because I am already starting to fall in love."
:: "The moments shared by your side are the most precious, because with you I feel the happiest and most loved woman in the universe. I adore you".
:: "I remember the night I kissed you for the first time, it was a sublime moment that endures in my soul and heart. I love you".
Those original love words that you dedicate to your boyfriend will have great power to make him fall in love because they will reach his heart directly.
Day after day you will find many opportunities to share romantic texts again with the man of your life.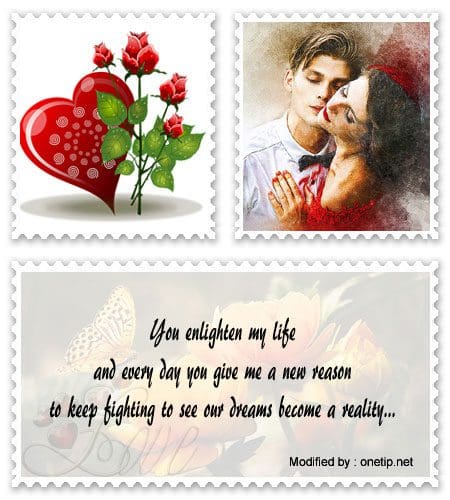 Related posts :
Best inspiring romantic love quotes
Best love messages for my girlfriend
Best love messages for my husband
Download anniversary messages for my wife
I am sorry messages for boyfriend
I Love you messages for girlfriend
Please forgive me text messages
Romantic love text messages
Romantic Valentine's Day love messages
Sorry messages for boyfriend
Sweet love words
Sweet romantic messages for Facebook
Credits :
Image courtesy: " Pixabay.com"
Send your originals  love messages , and will be published, others friends will thank you .
as02re01tr20