Ending a relationship is something so complicated for many girls as the common denominator is for us to give the first step and make the decision to end with our boyfriend because that love we felt does no longer exist or because we see that the relationship that we have is not going anywhere.
The hardest part is when your boyfriend still loves you, which makes the decision a very difficult thing to make because you fear you might hurt him or cause him pain.
Some women have the courage to look into the eyes of their boyfriends and end their relationship, but to others it costs us a lot even imagine looking into our boyfriend's face filled with sadness with watery eyes and still hoping that maybe like that we'll regret our decision.
If this is your case do not worry, because here we bring you a list of the best phrases for you to send to your boyfriend and finish your relationship without remorse.
"Johnny, I don't have the courage to tell it to you personally but I cannot continue this charade anymore. It's been some time that I don't have any feelings for you, I don't love you anymore and there are no buts or anything that is worth.
It's very hard because we've spent unforgettable moments together but I'd be lying if we continue like this. I don't want to receive any your calls."
Category :end of a relationship messages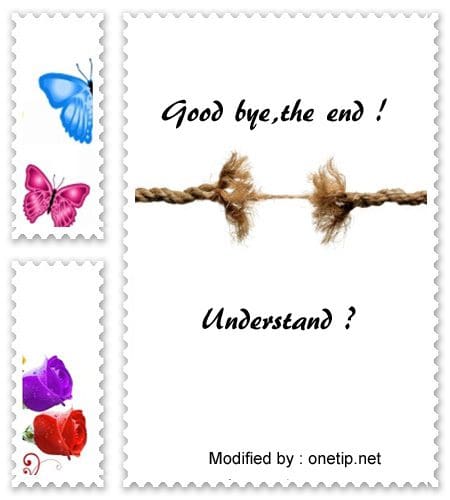 – "I've done everything possible and I've given it a lot of thought but there is no escape, it's not possible to continue with this relationship, you and I share nothing in common, we are so opposite we end up fighting all the time.
I can't imagine a life like this, I'm sorry for ending things this way, through this message, but I don't want to see you or know anything more about you. I hope you understand what I feel and you understand."
Category :end of a relationship messages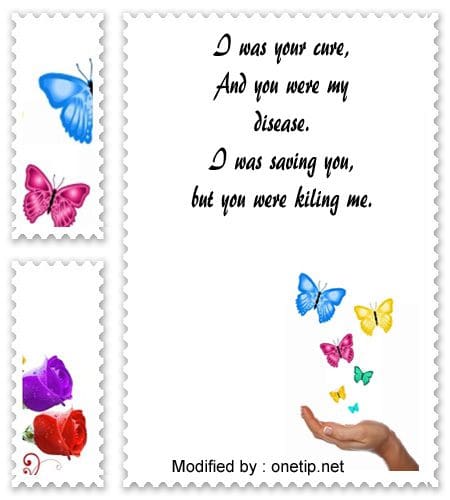 – "Dear Carlos, our relationship is fairly new and still we've learned so much. We've moved on so quickly I've realized that I feel no love for you, I just feel sympathy and if we have a good time it's because we have some things in common.
I want to end this relationship because I will not lie to pretend to stay together when only you love me. You must find someone else and I know that will not be difficult since you're a good person. I wish you well and write to me so I hear from you."
Category :end of a relationship messages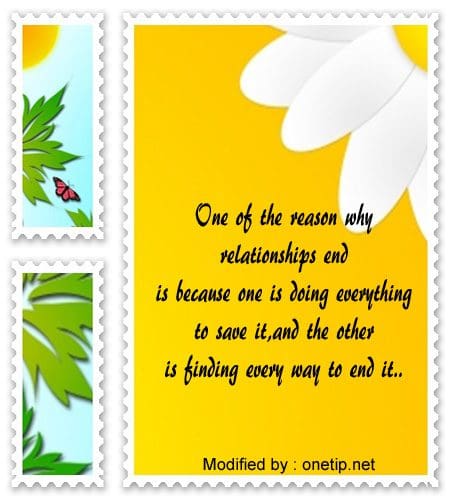 – "I talked to you but apparently you didn't take what I said seriously, so I'll put it in writing for you to understand at once. Dear, I do not want to continue in this relationship, I'm so tired that you don't pay attention, that you put your job and friends first and just spend the little time you have left with me.
Your face tells me that you love me but your attitude tells me that's not true, you've really disappointed me. So do not complicate things further and accepts reality, my decision is firm and I will not change it, so don't insist."
Category :Break up Whatsapp messages
We hope this list of phrases to end a relationship contains what you need to finish one and for all with that person you no longer wish to be with.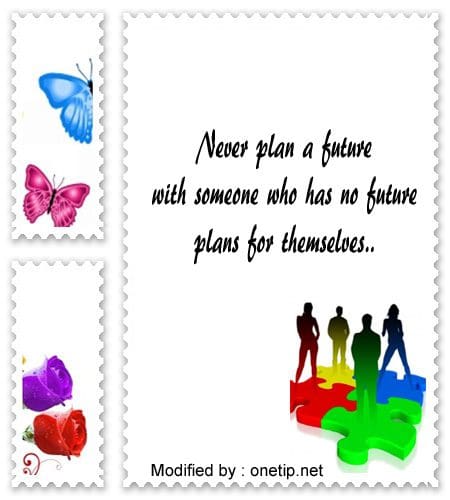 Related posts :
Best inspiring romantic love quotes
Best love messages for my girlfriend
Best love messages for my husband
Download anniversary messages for my wife
Get well soon romantic messages
I am sorry messages for boyfriend
I Love you messages for girlfriend
Please forgive me text messages
Romantic love text messages
Romantic Valentine's Day love messages
Sorry messages for boyfriend
Sweet love words
Sweet romantic messages for Facebook
Images credits :
Images & quotes about end a relationship images
Original images courtesy of "Graphics Mouse"/ FreeDigitalPhotos.net ,modified by onetip.net
Image courtesy of "Michal Marcol" / FreeDigitalPhotos.net
Send your originals end of a relationship messages , and will be published, others friends will thank you .
Tags:
end of a relationship messages, end of a relationship phrases, end of a relationship poems, end of a relationship quotations, end of a relationship sms, end of a relationship text messages, end of a relationship texts, end of a relationship thoughts, end of a relationship verses, end of a relationship wordings