Love letters are probably the most romantic means of communication there is. When we write a love letter, we are expressing with letters the feelings in our heart.
A love letter can be long or short, but what matters is that it expresses our love for the one we are in love with.
Some couples send each other love letters when they first meet, and keep doing so when they are in a relationship to keep romance alive.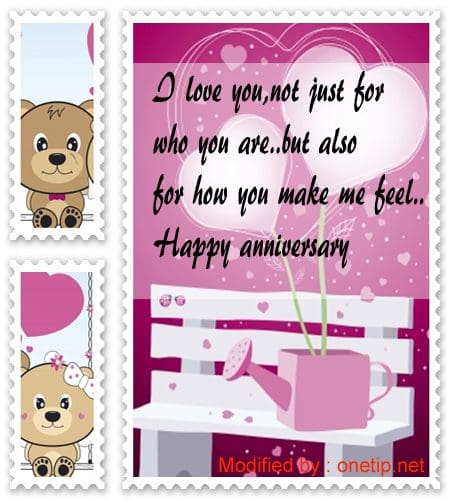 Do you want to write a love letter to your loved one for your first anniversary, but do not know how? In this article there are two model love letters for your first anniversary as boyfriend and girlfriend.
You can use these letters to let your better half how happy you are for the time you both have been together.
To: the love of my life
I write this letter to you because today is our first anniversary. I want you to know that since you came into my life everything has been better. I never thought I could love someone like I love you. Every day we are together is a gift from life.
Every time I kiss you I touch heaven. I want us to renew our love commitment today so we are happy forever.
The time our relationship has lasted proves we are meant for each other, and the only thing that could keep me away from you is death.
You are the apple of my eye, the air that I need. I know you love me too and that makes me immensely happy. Let us celebrate this day our way: loving each other and being happy together.
I love you.
My love:
Today is a very special day that is engraved in my memory because it is the day we started our relationship.
Meeting you is the best thing that has happened to me. From the start of our relationship you have proved you are the love I always waited for. Your smile is enough to cheer my days. Your company is the best recipe against loneliness.
I cannot imagine my life without you: I think I would not care about anything because you make me want to be better.
My heart and soul belong to you. When I am with you nothing else matters and there is only you and I. Nothing in the world compares to our love because there is no one else like you on earth.
Happy anniversary, love of my life. Let us make a pledge to love each other until our last day. I love you now and forever.
We hope you liked these model letters for your first anniversary as boyfriend and girlfriend. Remember: love can last forever.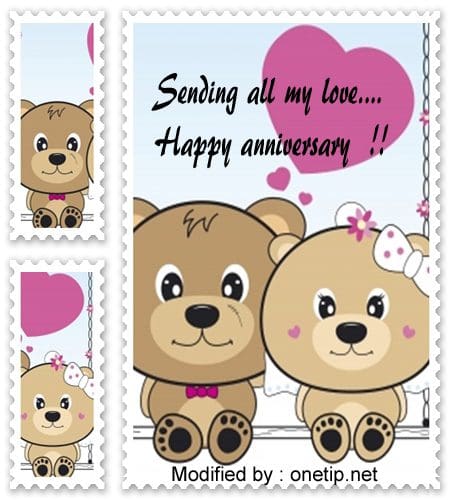 Related posts :
Best inspiring romantic love quotes
Best love messages for my girlfriend
Best love messages for my husband
Download anniversary messages for my wife
Get well soon romantic messages
I am sorry messages for boyfriend
I Love you messages for girlfriend
Please forgive me text messages
Romantic love text messages
Romantic Valentine's Day love messages
Sorry messages for boyfriend
Sweet love words
Sweet romantic messages for Facebook
Images credits :
Happy anniversary my love cards for him 1,2,3 : Original image courtesy of "Feelart"/ FreeDigitalPhotos.net ,
Modified by onetip.net
Image: scottchan / FreeDigitalPhotos.net
Tags :download messages of anniversary, beautiful messages of anniversary, anniversary pictures to download, anniversary pretty phrases download, download messages of anniversary, anniversary phrases & wordings, sentences and images, words of anniversary, download beautiful anniversary messages, picture messages,sweet anniversary text messages,sweet anniversary wordings

If you liked this page you can help us by giving us a "like" on facebook, G+, twitter. Also if you want you can help this website by sending your anniversary love messages, and will be published, others friends will thank you .