Searching for sweet love messages ? . There is no better medicine than love because it fills us with happiness, makes us see life in a positive way and fills our minds with beautiful romantic thoughts to share with our partner.
If you are in love then it is very certain that you constantly feel desires to express your feelings to your girl and you can do it in a simple way with some tender love phrases to dedicate.
You can use the medium you prefer, be it social networks, romantic notes, etc. so that your boyfriend sighs for you with the following cute love messages to send.
:: "Every time I think of our kisses it is as if I could feel your lips again next to mine."
:: "Every little detail of you makes you perfect, so much so that you are like a dream come true for me."
:: "Give me as much time as you can and I promise you that I will use it to make you the happiest woman in this world."
:: "Your love is like a religion to me and you are my goddess, you are the path that will lead me to happiness and eternal bliss."
:: "Today we will write one more page of this beautiful romantic novel that is our relationship. I love you more every day, my King! "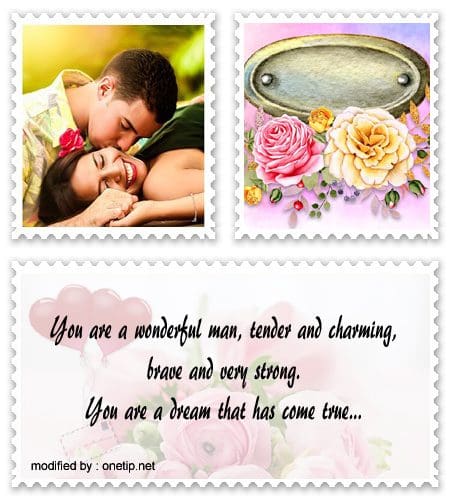 :: "Only with you I feel complete because you are my other half, my perfect complement and the love of my life."
:: "My heart is thirsty for love, that is why at every moment asks me for your presence to be able to satisfy this strong feeling."
:: "I love you with total madness, so much that I would be able to leave everything and go with you on a wonderful adventure wherever destiny takes us."
:: "You are a wonderful man, tender and charming, brave and very strong. You are a dream that has come true. "
:: "Even the seconds by your side are more valuable to me than whole days away from you. You are my great love and my reason for existing! "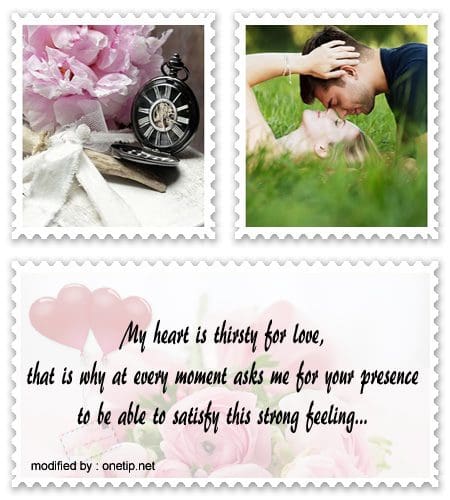 :: "Since I met you every beat of my heart has been produced by the love I feel for you."
:: "I would like to have the joy of being able to have you every day of my life, of being able to say I love you at every moment and of being inside your heart forever."
:: "You are like the most beautiful of the landscapes on this earth, that's why I delight so much contemplating you and discovering every little and beautiful detail in you."
:: "Of all the people I have known throughout my life, only you have left an indelible mark on my heart and you will be part of me forever. I love you!."
:: "I would be able to look for you even in the most remote place on this planet just to tell you how much I love you."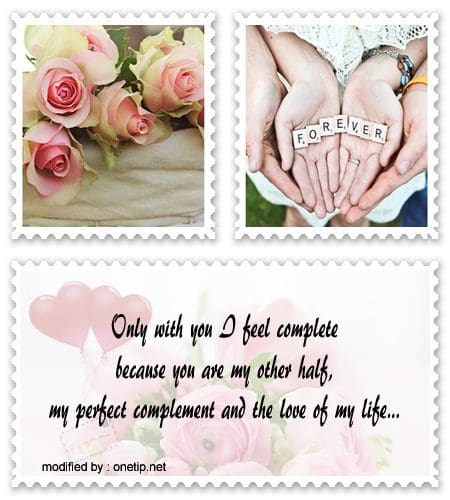 :: "I want our love to be eternal, to forever fill our lives with great joys and make our dreams come true."
:: "I keep your heart as the most precious of all my treasures and take care of it day and night with all my love."
:: "We no longer care what the world thinks, only what we both feel because our love was born to never die. We'll be together forever!."
:: "The stars have witnessed every night that I've been awake thinking about you and daydreaming about our love."
:: "You came into my life at the time I least expected, but now I realize it was at the right time. Thank you for saving me with the power of your love! "
It is the simple details such as the beautiful romantic phrases that reach the heart and make fall in love so do not forget to send tender love messages to your girlfriend. You will realize how happy she will be to have accepted you in her heart.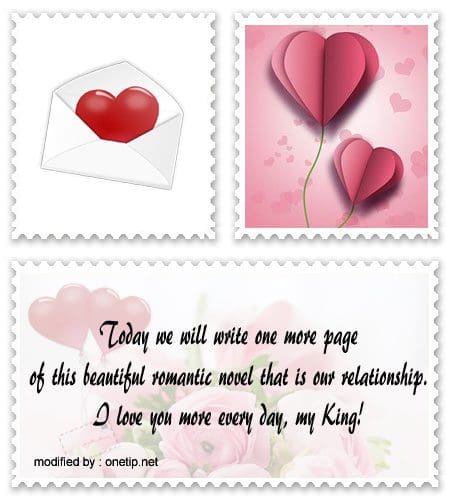 It is always a good opportunity to express your deepest feelings, so we have created sweet love texts to send to your boyfriend.
In this note you will find cute messages of love to send to your partner, which will make you happy to share them with him.
Lines below, we will leave you beautiful love poems to send to your life partner, at a special moment or when you just want to express your love.
:: "Sweetheart, it is not only my impetus to see you, it is also your way of being the one that gives me that innate energy by being by your side. I love you.".
:: "My feelings go from less to more, since we got engaged my heart beats stronger for you. I love you.".
:: "I love you so much my life, I am happy to have met you to start a good relationship based on true love and respect. May everything continue like this. "
:: "I sincerely wish that we make plans for our future as a couple, today we are engaged and I want us to say yes soon with the blessing of God."
:: "It's such a happiness to have dreams with the woman I love. Thank you for your company and unconditional support. I adore you baby.".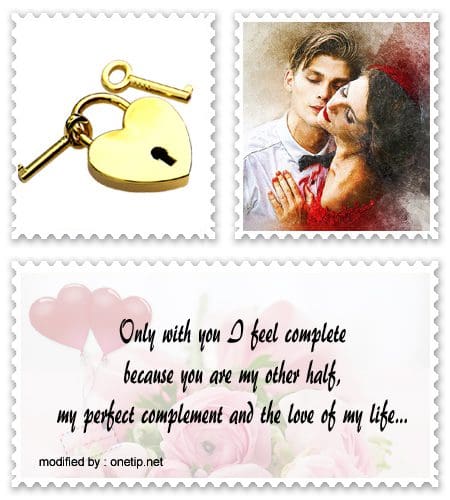 :: "Help me my love to be a better person, I want to improve every day so we would be a very happy couple, I adore you.".
:: "Thank God for giving me the opportunity to enter the life of an intelligent man and at the same time humble of heart. I love you honey.".
:: "The opportunity is now, our love lives the moment of happiness that I longed for so much. May everything would go well in our relationship. "
:: "Today I woke up thinking about you and all the good times we had together, darling. I am very excited to think about the many more joys that we will live together. "
:: "Congratulations to our love, we have managed to remain as a solid couple. I love you my life and I wish that we could continue living this dream forever ".
:: "How can I not love you if you are the one who moves my life for good and who will always be by my side? I adore you. "
:: "You are the love I always dreamed, sweet joy for my life, the woman I will love forever."
:: "Thank God for being lucky to meet you because now I feel so in love. You have changed my life at an angle of three hundred and sixty degrees."
:: "This is a life experience that I would never want to end, being your girlfriend makes me a totally happy woman, I adore you my heart."
:: "It's hard to say goodbye to go on a trip when love is stronger than work responsibility. I will be back soon. I love you.".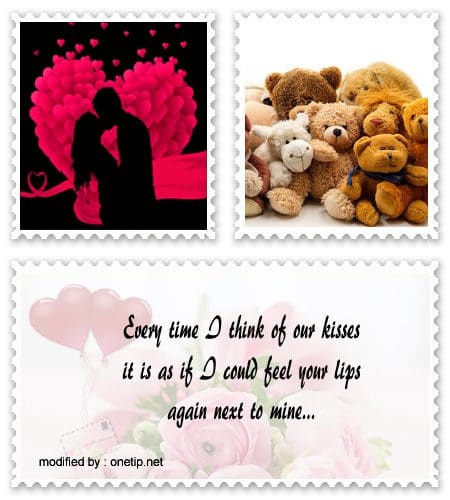 :: "I have no limits to love you, I fell in love with you from the first moment, and I commit to you as partners because I will adore you all my life."
:: "I am very excited that our love is reinforced every day, I want to marry you and be very happy."
:: "If I love you it is because you gave me that beautiful smile when I met you, you dazzled my heart from the beginning. I wish we would always be as happy as today. "
:: "Many blessings for our engagement, may God allow us to remain as united and in love as we are today. Always remember that I adore you very much.
:: "Let me tell you that my heart has been and will continue to be forever the one who delivers love and affection to your life. I love you my princess.".
:: "I love you as much as I never thought I could be capable of. God has rewarded me with your presence in my life and with the love you give me every day. "
:: "May the love we have would be our most precious treasure, may nothing and no one would disturb it or harm it because we love each other very much."
:: "I can never forget the little details you always give me, that, even if you say they are small, for me they will always be so beautiful."
:: "I love you my life, true love began when you came to me and will last forever until God separates us. I love you darling.".
We finish this beautiful article with original love phrases to share with your partner, hoping they are exactly what you were looking for.
We wish you can use these beautiful love dedications. Don't forget to visit our website again.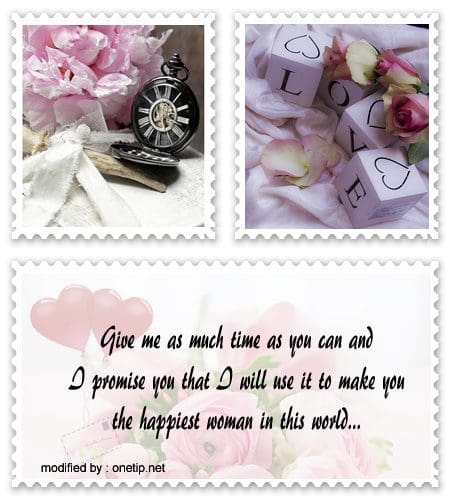 Related posts :
Best inspiring romantic love quotes
Best love messages for my girlfriend
Best love messages for my husband
Download anniversary messages for my wife
I am sorry messages for boyfriend
I Love you messages for girlfriend
Please forgive me text messages
Romantic love text messages
Romantic Valentine's Day love messages
Sorry messages for boyfriend
Sweet love words
Sweet romantic messages for Facebook
Imagine credits :
Image courtesy of Pixabay.com modified by : onetip.net 
If you liked this page you can help us by giving us a "like" on facebook, twitter. Also if you want you can help this website by sending your love quotes, and will be published, others friends will thank you .
a*09*as02we20kl