Your girlfriend occupies the first place in your heart; however it will never hurt you to tell her it through beautiful romantic messages to share.
Women are fascinated that their boyfriends surprise them with such a sweet detail as it is to share tender love phrases throughout each day.
Now that you know it very well, be prepared to send beautiful romantic dedications to the woman you love most on the entire planet.
:: "You are the muse that inspires me to write the most beautiful love verses and you are also the recipient of the melodies that I sing with my heart."
:: "My pillow witnessed my crying alone, but that changed since you came into my life to rejoice my heart."
:: "You have broken all the schemes and while I dedicate poems I feel that I fall in love more with you, my beautiful treasure."
:: "You have taught me to love; with tenderness, passion and devotion, and if one day I lose you nothing will be the same again. "
:: "Just as flowers need water and sun I need your love to live, to be and feel good."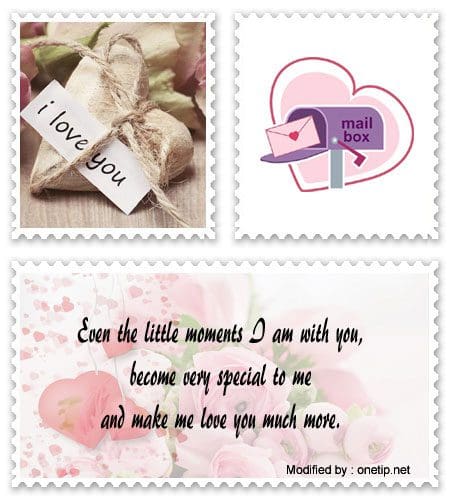 :: "Your hugs show me that in your heart I can find a refuge where I feel safe in front of the world."
:: "Even the little moments I am with you, become very special to me and make me love you much more."
:: "With you I understood that I am in this world to adore you and to make you happy, in exchange all I want is all your love."
:: "My heart was hard as a stone, but you softened it with the tenderness of your eyes and the sweetness of your smile. I'm madly in love with you!"
:: "I love the magic of your love that transformed my whole world, which makes me see life with optimism and gives me an overflowing happiness."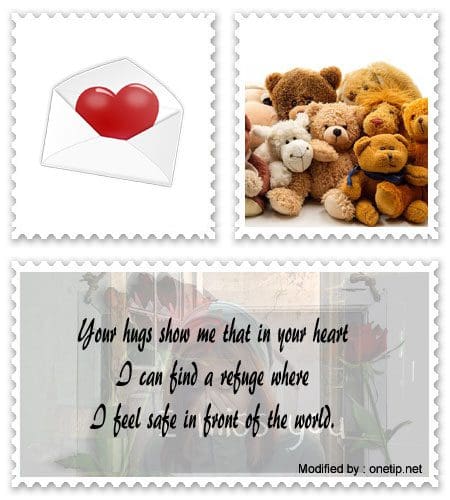 :: "What a beautiful moment was that in which destiny crossed our paths because from that moment all my days are full of love and happiness."
:: "No romantic novel that has been written can be compared with this love that you and I live every day. I want us to be happy forever! "
:: "My gray and sad world gradually filled with color and joy from the moment you came into my life and now I am really happy."
:: "I want to have a long life so I can enjoy it with you and have endless opportunities to express the great love I feel for you."
:: "There were so many things in this world that I couldn't understand until you appeared with the greatest love and now everything makes sense."
:: "I have always felt a void in my heart that I could not fill with absolutely anything, but then you came into my life and I realized that emptiness was now full of love for you."
:: "I never imagined that there was true love, but I discovered it with you and since then I live grateful to God and to life, but above all with the most incredible of women: you."
You will reach your girl's heart directly with these beautiful romantic words and she will fall in love even more with you.
Take advantage of every occasion that life presents to you to express your feelings through sweet love messages for your girlfriend.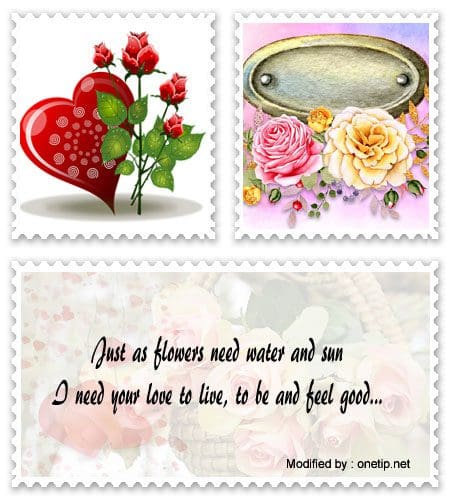 How to make your partner fall in love even more? We give you an idea, try sending romantic love words.
But, where can you find the most beautiful love messages to dedicate? Don't worry because you're in the right place.
Choose any of the cute thoughts to dedicate to your partner that we bring you this time and use them to strengthen your relationship. You can't imagine how happy he/she will be when he/she receives them.
:: "It's amazing everything you achieve in me when I'm by your side, you change me into a completely different man with a heart full of happiness and tenderness."
:: "Sometimes the words are too much and an accomplice look is enough, other times the words are perfect to tell you how great is the love I feel for you."
:: "It's hard for me to sleep every night because I do nothing but think about you and those thoughts surpass my dreams."
:: "I don't know if I love you like you always dreamed, but what I do know is that you are the woman of my dreams and loving you is the best thing that happened to me."
:: "I will move heaven and earth to guarantee your happiness because nothing makes me happier than see you smile."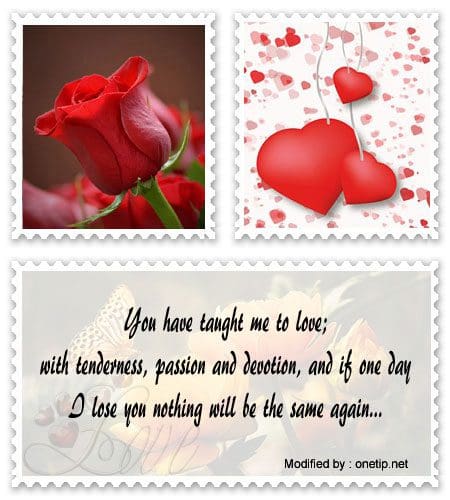 :: "You represent everything positive I have in this world and in this life, you are the reason I have to keep fighting."
:: "When we are together we lose track of time and daydream until a kiss shows us that this is our happy reality."
:: "Although I have you inside my heart I will always look for ways to hold you in my arms and tell you how much I love you."
:: "I can't avoid the startles of my heart every time I see you, that's why I immediately run into your arms and seek to join your lips with mine."
:: "I don't lie to you when I tell you that your love is the first of my life because the rest doesn't count, with you I learned what it means to really love."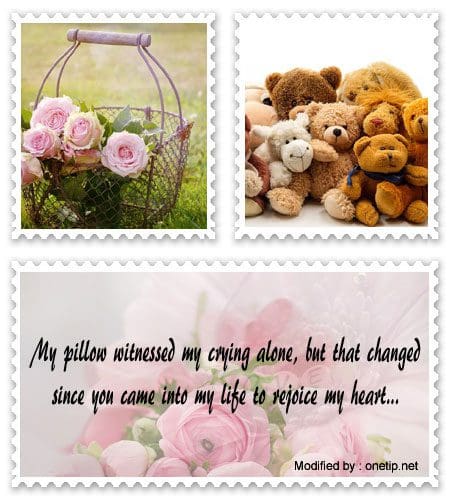 :: "I have the great ability to find you everywhere I go and by just closing my eyes I draw your beautiful face in my thoughts."
:: "The best part of my life was that moment in which our paths met because since then our love was born, the reason for my happiness."
:: "I always want to return to your side, remember the beautiful moments we have shared and walk together towards our future."
:: "Even the seconds I've shared by your side are more valuable than many of the days of my life."
:: "When you hug me I feel that we understand each other perfectly, that we can tell ourselves everything that words do not allow us and that our love will never end."
:: "You are the wings of my heart, the freedom in person who came to rescue me from sadness to make my dreams come true."
:: "I always dreamed about you and although I didn't know how you were, I could recognize you immediately the first time we met."
:: "Ours is not a love at first sight, I am sure that we have loved each other forever and that this has only been a reunion."
:: "With your kisses you not only manage to touch my lips, you touch my soul and my heart and make me burst with love."
:: "For a long time nothing interesting happened in my life but you got to turn everything upside down. I adore loving you and I am willing to do everything for you. "
:: "What a great surprise life had reserved for me, I never imagined that I would find the love of my life so soon. You are the best thing that has ever happened to me. "
:: "Just when I met you, I knew what it was really to live, you injected sweetness and peace into my days and I don't want this to ever end. Please never stop loving me. "
Sweeten your girlfriend's heart with these beautiful love texts to download and keep burning the flame of passion in your relationship. Be sure to express the original romantic words that your girl inspires in you.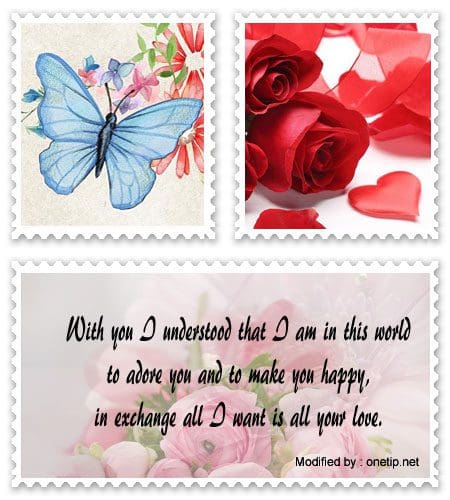 Related posts :
Best inspiring romantic love quotes
Best love messages for my girlfriend
Best love messages for my husband
Download anniversary messages for my wife
I am sorry messages for boyfriend
I Love you messages for girlfriend
Please forgive me text messages
Romantic love text messages
Romantic Valentine's Day love messages
Sorry messages for boyfriend
Sweet love words
Sweet romantic messages for Facebook
Credits :
Image courtesy: " Pixabay.com"
If you liked this page you can help us by giving us a "like" on facebook, twitter. Also if you want you can help this website by sending your originals love messages , and will be published, others friends will thank you .
AD12FG02HJ20KL