Women's Day is one of the most important days of the year, as it makes us reflect on the obstacles that women must go through in order to achieve what they set out to do.
Today we invite you to celebrate the women you know through these beautiful phrases of love for Women's Day; with these sweet messages you will bring a big smile to whoever you send them to. Check them out!
:: "I want to celebrate you and all women on this Women's Day. You are very special to me and there is no day that you do not surprise me for good. I love you too much and I send you a kiss".
:: "My love, I do not want to miss the opportunity to remind you how much I love you. You are an exemplary woman and I know you will go far. Happy Women's Day".
:: "My friend, we have known each other since we were little and I love to see the woman you have become. You are really an example and I would like to be more and more like you. Happy Women's Day, love you!".
:: "Mommy, you have always been the most important example I have ever had in my life, and that is because you always act on your own impeccable principles. I wish you a nice Women's Day, I love you very much".
:: "My life, I am incredibly proud of each and every one of your accomplishments. To see you strive every day to achieve what you set out to do is truly inspiring. I want you to have a very happy Women's Day".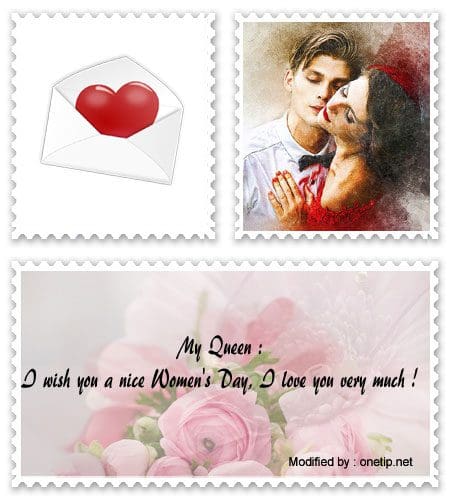 :: "Since I knew I would have a sister, I told myself that I would spend my days taking care of her and protecting her. Now that you are a woman, I know you can do it on your own. I love you so much, little sister, happy Women's Day".
:: "The friendship we share has taught me to trust you blindly, because I know I can always count on you when I need you. You too, dear friend, do not forget that. Happy Women's Day and lots of kisses to you".
:: "Thank you Mom for all your teachings and care, you have made me the person I am today and I owe you absolutely everything. Have a very happy Women's Day, you deserve it, Mommy dearest".
:: "Happy Women's Day, my love! I want today to be a day of pure celebration by your side, because no one deserves this tribute more than you. I love you very much and I thank you for everything".
:: "Happy Women's Day, my beautiful sister! I love you very much and I am very inspired to see the woman you have become. Keep it up, sister, fight for your goals always and let nothing stop you".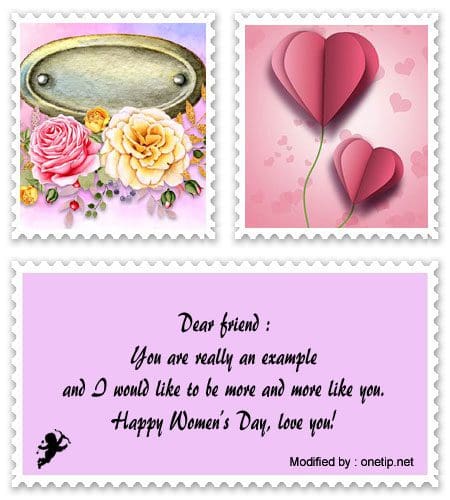 :: "Friend, on this Women's Day I want you to know that I am here for you and I will never leave your side. Friendships like ours are not found every day. Have a happy day, I love you very much".
:: "I want you to have a Women's Day like no other, because there is no woman more inspiring, beautiful and brave than you. Thank you for your good example and your immense love. I love you very much".
:: "I wish you a beautiful Women's Day! You simply cannot imagine how happy I am with you. I thank Heaven every day for having given me someone like you. I love you too much, I have you in my mind every single minute of the day".
:: "The love between sisters is one of the strongest that exists in this life and I have seen it since you arrived, my sister. I wish you a wonderful Women's Day, you deserve it, little sister".
:: "Happy Women's Day, my friend! May everything that you have always longed for be closer and closer of becoming a reality. I love you very much and I am very happy to be able to call myself your friend. Lots of kisses"
Take advantage of these beautiful messages of love for Women's Day and do not hesitate any longer. By sending these beautiful love phrases you will make that person's day bright and full of love.
We are waiting for you soon with more incredible free phrases for every occasion. See you next time!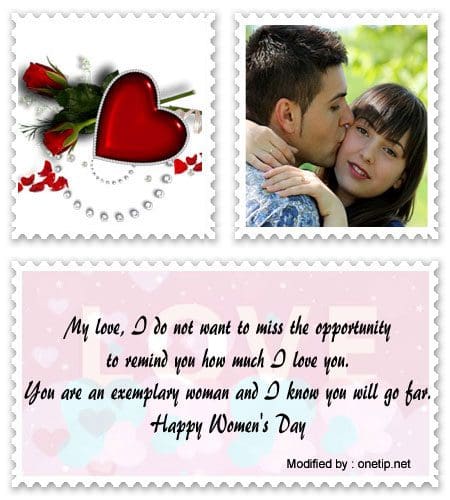 In the past men admired women for their the beauty, now a days this is part of it, because intelligence is one of their qualities to highlight, as women stand by their work and success that in some cases exceed those of men.
There is an institution which is held every year this date. This day is important for all women so do not forget to greet to all those who are close to us and those we love. Lines below you will find some thoughts dedicated to them at the time.
You can write them through Facebook, Twitter or Google +, and so doing that, every woman who receives it will get too happy.
– "I admire both the strength of a woman and nobility that is so great, she is the most beautiful thing God could create on earth, because it can be so happy, so at the time we wish you a happy day. "
– "It's amazing to see a woman fighting for life, and to see the enthusiasm and the love she puts in the things she does, they are the ones that adorn the place where they are because of their beauty, we hope that today enjoy much of their day. "
– "Whenever I feel something special for a woman, is like flying into another world as if we were in paradise, and we can even give our life for them, nothing would be the same without them, so a happy day to you, dear women. "
– " The women are so blissful, it's amazing that they give life to another being, are so strong, the smile of a woman leads to heaven and fills us with joy the whole life, so happy Women's Day we wish it with love. "
– "Today the woman unfolds in all aspects, especially in the professional that makes that they can achieve the proposed goals, so they deserve a great day, happy day to all women. "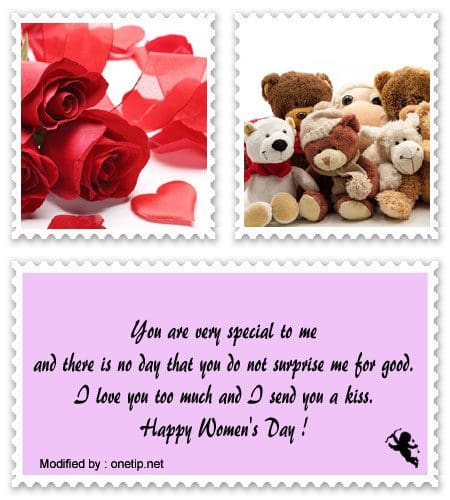 – "It is not true that women are a weaker vessel, they have proven to be brave to any incident happens to them quietly can be professionals and be mothers, so all women who take up their children alone, they sent a big hug for his day. "
– "Women should be very proud of themselves, they are the most beautiful creation, so conceit them every day of their lives, and even more on this day, happy day and much love to you. "
– "Every time you face a smile, I am the happiest man on earth, do not forget that you are the woman of my life and today I hope to make your day very happy. "
– "We know that your wife struggles to make things right, and today we want you to be happy because today commemorates your day, for who you are, special women, happy day. "
Be sure to send some of these thoughts to the woman you want to feel rewarded for being who she is.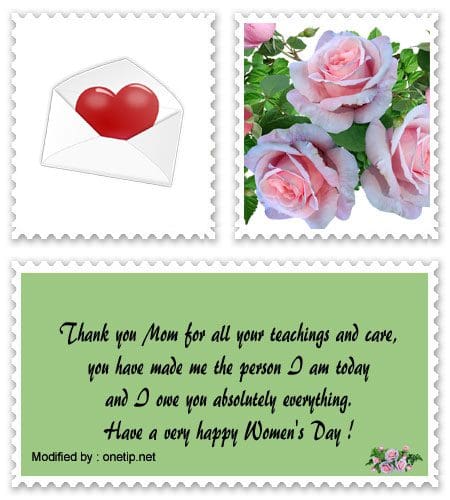 Related posts :
Beautiful messages for a graduation
Best congratulations to a cousin who is getting married
Best cute messages for my daughter
Best encouragement messages for my loved ones
Best I miss you texts for my sister
Best phrases before a surgery
Best phrases wishing good vacations
Best thanks messages for a promotion
Best weekend text messages
Download encouragement messages for a sick person
Have a good trip messages for my boyfriend
Love phrases for a sick girlfriend
Wishes phrases for a friend who is traveling
Credits :
Image courtesy of "Pixabay.com" / FreeDigitalPhotos.net
If you liked this page you can help us by giving us a "like" on facebook, twitter. Also if you want you can help this website by sending your originals Women's day messages , and will be published, others friends will thank you .
as22fg02hj20uy