There is nothing more beautiful than spending our birthday next to the people we love most like our family and friends, because those are the people that make our lives better every day; either with a small smile or a wonderful advice.
For that reason, if a loved one's birthday is about to arrive, be sure to give yourself a little time to be with that person, because he or she will value it more than any material gift that you can give and, much more importantly, do not forget to dedicate some nice words to him for his day.


In this opportunity, we want to share with you, some beautiful birthday phrases that we have specially prepared for you to dedicate to all those people that you love and whose birthday is coming.
We hope you like them and we encourage you to dedicate them through social networks.
– "Today is a very special day for you and also for me, because I consider you as a brother, as someone who is also part of the family. That's why everyone here wants to send you a big hug for your birthday. I hope you have the best of all! May God bless you! "
Category: Birthday messages
– "One more year of life means another year of new experiences, new falls and, above all, new lessons. I hope you know how to take advantage of this new one to the fullest and give it all to you to be able to achieve everything that you propose. Remember that I will always be there when you need me a big hug and Happy Birthday! "
Category: Birthday messages
– "Happy birthday to the best friend in the world. I thank you for all those times you have supported and given good advice. Like you, I'll be by your side when you need me, and for when you do not, too. I hope you have the best birthday and you like all the surprises that we have prepared for you! I love you very much! "
Category: Birthday messages
– "Dear cousin, you know that I consider you one of my best friends and also that you are like a brother to me. I feel very happy to be able to be with you on your birthday, but anyway, I wanted to write you this little message to remind you that you are an incredible person. Happy Birthday!"
Category: Birthday messages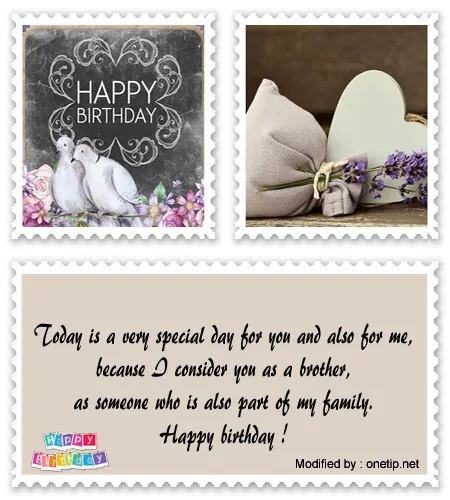 – "We have known each other for so many years that it is as if we were part of the same family. I know that in recent months the studies have not allowed us to spend so much time together, but today is your birthday and nothing matters more than that. Happy birthday, best friend, you have to enjoy this day to the fullest. A big hug! "
Category: Birthday messages
Dedicate these beautiful birthday phrases that we have left, we are sure that they will be very well received. Do not forget that on our website you can find many more phrases like these ones; so do not forget to visit us. Thank you and see you next time!
The best thing that can happen to us on our birthday is to see all those people that we do not frequent, because it means that despite time and distance we are always present in their minds and hearts, and they have taken a moment to join us in this special day.
For that reason, if the birthday of a friend, friend or relative is yet to come, do not let it go unnoticed; on the contrary, do everything possible so that this date is an unforgettable one for him and dedicate some nice words for his day.
Today we want to share with you some beautiful birthday phrases with which you can wish the best and transmit all your good vibes to that person you love.
Remember that all our phrases are completely free; so you can use all the ones you want. Here we leave them for you!
– "Today is not just any day. Today you are celebrating one more year of life, today God is giving you a new opportunity to do everything you could not do the year before; so I hope you wake up with lots of energy and have the best of today. A big hug! Happy Birthday!"
Category: Birthday greetings
– "I am very happy to be sharing this day with you. I know how much you love to celebrate your birthday and that's why this year we wanted to make you something special. I hope you like everything we have prepared you and have the best. You're a great friend, never change! We love you!"
Category: Birthday greetings


– "We have so many good memories together that it is impossible to choose just one. I'm sure you already know, but I want to repeat it anyway; for me you are more than a friend, I consider you a brother and for that, we will always be together. I send you a big hug, brother. Later we'll see you, Happy Birthday! "
Category: Birthday greetings
– "You have no idea how much it bothers me to know that I will not be able to be with you on the day of your birthday as we have always done, but I promise that as soon as I return from this trip, I will organize a meeting so that we can celebrate it . I send you a big hug, dear friend. Happy birthday! "
Category: Birthday greetings
– "Friend, you have no idea how excited I am to go out and celebrate your birthday together. The girls and I have prepared some surprises that we are sure you will love; so get ready at once because a big day is waiting for you! We love you so much! "
Category: Birthday greetings
Do not forget to share these beautiful birthday phrases that we have left you; We are sure you will loved them. Do not forget that on our website you can find many more sentences like these; so we hope to have you back soon!

Related posts :
A birthday letter to my cousin
Best birthday messages for someone who is far away
Best birthday wishes
Birthday greetings for a 15 years old girl
Birthday greetings for a dead father
Birthday messages for friends
Birthday text messages for my best friend
Happy birthday best quotes
Happy birthday wishes for Facebook
Lovely birthday message for my boyfriend
Romantic birthday letter for my girlfriend
Romantic birthday letter to my boyfriend
Romantic birthday wishes for my boyfriend
SMS birthday wishes to my husband
Image courtesy of "Graphics Mouse" / FreeDigitalPhotos.net
Tags:
free examples of beautiful birthday wishes, download beautiful birthday messages, share new birthday quotes, original birthday texts, new cute birthday words, send examples of birthday thoughts, free birthday phrases, share the best birthday sms, very beautiful birthday words, share beautiful birthday greetings, nice birthday messages for friends, cute phrases birthday for best friends
If you liked this page you can help us by giving us a "like" on facebook, G+, twitter. Also if you want you can help this website by sending your birthday messages, and will be published, others friends will thank you .