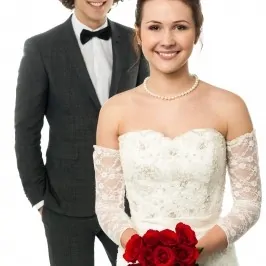 Nice wedding phrases
As it is well known, sometimes when one of our dear friends is going to get married, we may go through some tough times, even when we know that she is getting married with the best person she can. However, it is very important for her that we let the sadness aside and that we are very glad and happy, because then she will see that greater than the pain of losing her in a way, is the happiness that we have for her being so well.
To do this, it would be very nice of you to send her a message full of love, in which you congratulate her for this important step she will be taking. Remember, friendship does not need to be lost, on the contrary, it may be an opportunity for it to be strengthened. In this section you will find several models that have this purpose, that will help you make her feel very happy, content and supported by her friend on the day of her marriage. Choose the ones you like the most and remember that they are free and designed especially for you.
Free list of nice wedding phrases:
– "Dear friend, you are about to start a new stage in your life and I hope you know that I am here, by your side, in every step and every moment. The bond we have is eternal, of that I am sure and so I hope you know that, if there is anything you need, I will be here, as I have always been and for all our lives. I am so glad that the Lord is illuminating your path and that he has allowed you to find such happiness. I wish you the best in this adventure that you are about to undertake and may you never lack anything, may love always prime, but by the side of confidence, respect and communication. I have no doubt that you will get where you want to go, I adore you my friend. "
Category :wedding messages
– "In this special day, nothing else besides pure joy can be reflected in your face, because you decided to take an important step, one that will change your life and I am sure you will never regret, because it is wonderful. I know that you two will do great, because I have seen you get to know each other, fall in love and promise each other the world, and I know that the life you will build will be based on all the principles that characterize you and that guided you to become what you are now. May the Lord always be with you every step of the way, you will see that under his light you will never lack anything. I adore my friend, it is very exciting for me to see you like this, so pretty and so happy. "
Category :wedding messages
– "I cannot wish anything else but your happiness, at this moment it is the most important thing to me, you can be sure of that. I know God will reward you greatly with joy and happiness, because what you have decided has come from the bottom of your hearts and I know they you will do everything possible for it to work and go well. We grew up together, we faced the world together, we fought for what we believed in and that is why I wish the best for your wedding and for your relationship. Never measure yourself when giving, because to love because we should not put ourselves any boundaries, you will see how good this advice will be for you. Try your best to create the home you want your children to grow in. I send you thousands of kisses, caresses and hugs, you are the best. "
Category :wedding messages
– "When your feelings are real, when love flows pours from our pores and shoots out of our eyes when we see our loved one, it is then when we know it is forever. That is what I see between the two of you and why I am so glad to know that you will unite your lives, because even though I know this will be a separation for us, right now I only want you to find your way, the one you have struggled so much for. I adore you with my whole soul and I know that from now on, only happiness awaits you. "
Category :wedding messages
You will see how happy she will be to hear from you, so do not take too long to send her this beautiful message to her. Hope to see you soon, good luck.
Image courtesy of "stockimages" / FreeDigitalPhotos.net
If you liked this page you can help us by giving us a "like" on facebook, G+, twitter. Also if you want you can help this website by sending your originals Sms, text, text messages, quotes, wedding messages, and will be published, others friends will thank you .
Tags:
wedding messages, wedding phrases, wedding sms, wedding text messages, wedding texts, wedding thoughts, wedding wordings, wedding quotations, wedding verses, wedding poems