Searching for What to write in an anniversary card to girlfriend ? Being together deserve to be celebrated and thus renew their love ties. For this purpose you can use sweet anniversary thoughts to express your best feelings.
In this article we offer original anniversary messages to send your partner with a nice present or dedication alluding to the celebration.
Lines below, you will find beautiful anniversary texts to share with your better half on the day you are celebrating another year of pure and true love.
:: "After so many years of marriage, it is beautiful to continue feeling the love in a caress or a kiss. Happy Anniversary my life. "
:: "Every day we spend together for me is different, because each one of them has its special charm by your side. I love you so much and I hope we have a nice anniversary."
:: "Time will continue to run, we will stop at it, to remember everything we have experienced since we met. Happy Anniversary my life ".
:: "My treasure, I am flattered on this beautiful day because apart from celebrating another year of our love, I am so happy to have your company."
:: "I can't believe that so much time has passed and our love remains just as beautiful since we met, It is like we were born to love ourselves without condition. Congratulations".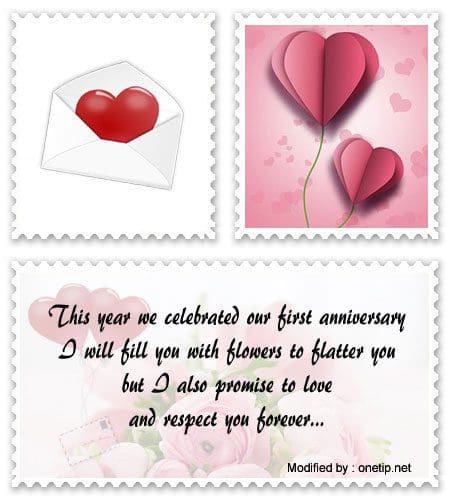 :: "My love for you has been, is and always will be the most desired dream which comes true in every gesture of yours. I adore you honey. Happy Anniversary and many blessings. "
:: "The perfect life for us is being together to love and respect each other, as this whole year that has passed, I really love you honey. Happy Anniversary."
:: "I hope that with my lips you feel a prisoner of my kisses, because I love you deeply and I only wish you to be my great love. Happy Anniversary my Queen. "
:: "When a man and a woman really love each other, there is no opportunity, time, or anything that hinders that great love. That's how I love you with all my soul. Congratulations darling".
:: "One day tired of my loneliness, I closed my eyes and asked God to put me in a beautiful place where I could found someone to give me peace and love. And then, I met you."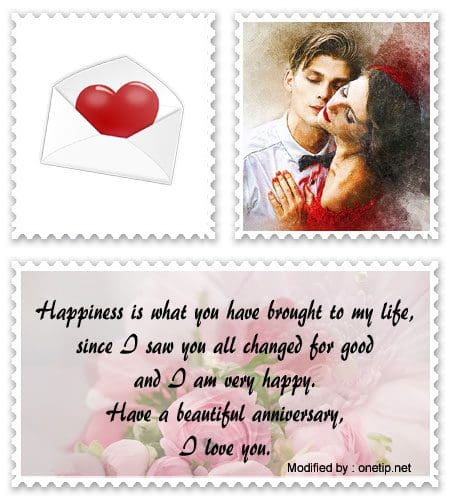 :: "When you are not so close to me, my soul demands you, just by feeling your voice, your hands or having news from you, you give me the energy I need to live. Happy Anniversary".
:: "We are at the door of starting the second year of love relationship. Thank you for this beautiful and happy year that you have given me. Congratulations on our anniversary. "
:: "It always comes to mind your beautiful face when I gave you the first kiss. I will never forget that perfect night for both of you. Happy Anniversary my love".
:: "Happiness is what you have brought to my life, since I saw you all changed for good and I am very happy. Have a beautiful anniversary, I love you. "
:: "This year has been great for both of us, by sharing our path we have felt more in love than ever. Happy Day baby".
:: "This year we celebrated our first anniversary I will fill you with flowers to flatter you but I also promise to love and respect you forever."
All occasions are good to express to your partner how much you love him or her. We hope these short anniversary text messages to send in your day would be very well received by your partner.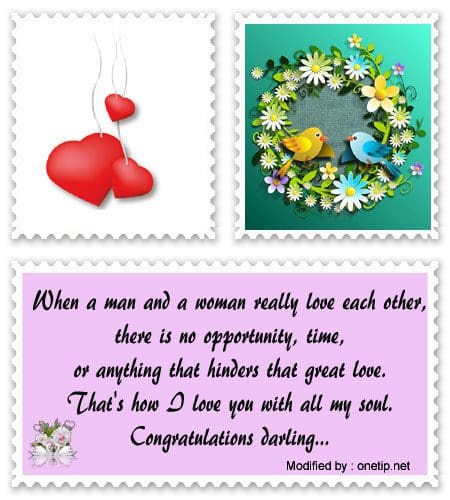 We end this article with expressive anniversary verses to declare to your better half on a day as special as this one. Use your social networks to share these love messages.
If you are looking for beautiful love expressions to dedicate on your anniversary to that person you have by your side and who you love a lot, you are in the right place.
We leave you here beautiful anniversary texts to express your love to who represents a huge part of your life. We hope you celebrate this day with love and joy.
Remember that you will also find short and emotional anniversary Whatsapp messages to send to your sweet half one on such a special day as celebrating a new anniversary.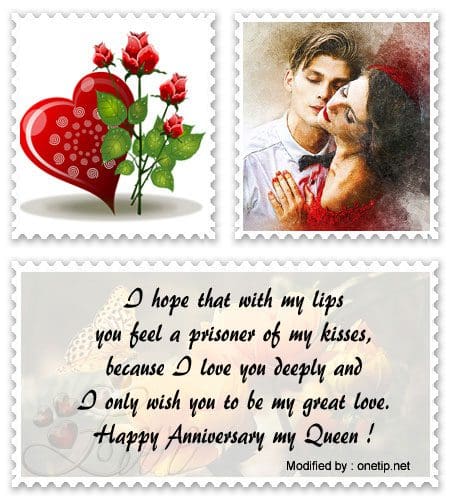 :: "I wanted to be happy, so I longed to meet someone who gave me peace of mind and a lot of love and I was lucky to meet you. Happy Anniversary my life. "
:: "Thank you for all the years by your side, we are near to closing another year of understanding, tolerance, respect and love. Happy Day, my heart. "
:: "We are together for a long time, my love, it is as if time has passed in the blink of an eye, the most beautiful thing is that I feel happy by your side. Congratulations".
:: "On this date of our anniversary I want to confess that you have changed my life, I do not know how you have managed to understand me, all I know is that I feel good."
:: "We will celebrate with the whole family another year of our union, our children are also a great part of it. Congratulations".
:: "Every day of my life is blessed with your presence, I hope that all the years to come are as beautiful as they are today. Happy Anniversary my love".
:: "This year has been wonderful by your side, I thank God for giving me that blessing and you for tolerating me as I am. I love you so much darling and I wish you a Happy Anniversary. "
:: "I want to enjoy with you my love, of all the good things that this world sends us, because my premonition tells me that we will be united all that is left of life. I love you".
:: "On this precious day I will only express something that I have never told you, I feel madly in love with you, Happy Anniversary my heart."
:: "This love is eternal because you have an angel and a charisma with which you have enchanted me in such a way that I cannot separate from you. Happy Anniversary to us."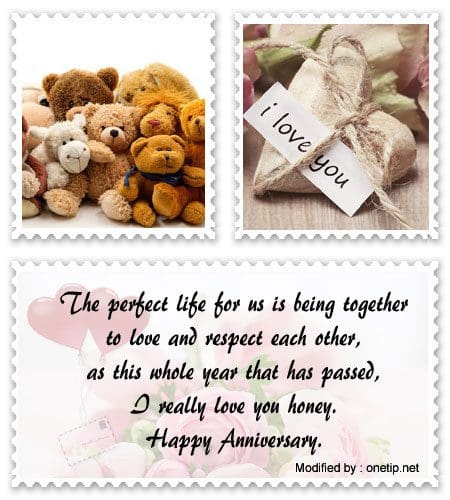 :: "I have hope in this life that we live, you give me the love I need to be happy and I feel that my love makes your soul great . Happy Anniversary sweetheart".
:: "I adore you my love, we have had days of joy and nights of delirium, everything we have experienced has made us love and accept ourselves as we are. Happy Day my life. "
:: "I send you a greeting for our anniversary, although we are far away, I want you to know that for me it is as if you were by my side, hugging and feeling your warmth."
:: "You were and you will be the hidden treasure that one day I found to keep it in my heart and make it grow over time. Happy Anniversary darling ".
:: "A beautiful smile does not only belong to a woman, a man who smiles is also charming because he expresses total happiness to the one he loves. Happy Anniversary".
:: "I adore you and today more than ever because it is our anniversary, I hope our relationship would be always based on true love and respect."
:: "Your beautiful eyes ask me to kiss you, I will keep that kiss for the night when I will give you a big hug and say Happy Anniversary my love."
:: "I can't live without seeing you, it was what I always told you when we were in love, now as spouses I feel happier than ever to celebrate another anniversary."
:: "It was worth waiting, until I found in my life the person who would fill that void that has been my only company for so long. I wish you a Happy Anniversary. "
:: "Our time of love has been and will continue to be the most important in our lives. I miss you whenever you're not by my side. Happy Anniversary".
We leave the most beautiful anniversary SMS to dedicate to the love of your life through social networks such as Facebook, Twitter or Instagram.
Hopefully you can use all the beautiful anniversary phrases to flatter your partner when celebrating another year of relationship.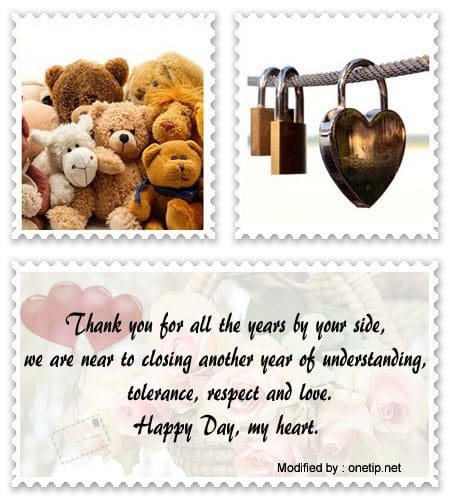 Related posts :
Anniversary messages for my wife
Anniversary messages for your boyfriend
First anniversary letter for my girlfriend
Greetings for the birth of a grandchild
Love letter for first anniversary
One month anniversary messages
Romantic anniversary messages for Facebook
Thanks for a year of relationship messages
25th wedding anniversary messages
Images credits :
Anniversary images for her : Original image courtesy of "Pixabay.com ",Modified by onetip.net
Send your originals anniversary text messages , and will be published, others friends will thank you .
a17*ty02*re20kl