How do you make someone feel better?.There are some circumstances in our life that make us to be sad. However, although we find many obstacles along our way, we must learn to overcome them and become strong to go ahead.
For this reason it is always good to read a message that inspires and fills with enthusiasm our soul.
Do not forget to send a message to that person who is distressed, so that in this way you can change his attitude and make him smile again. You know it is very important to receive messages of encouragement when one passes these situations of anguish and sadness.
In this section we offer a series of posts to give positive energy to that person who don't have the strength any longer to to continue on his immense sadness that is in your heart, choose the one you like most.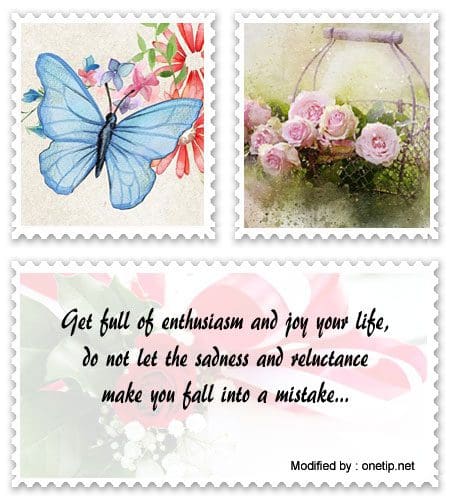 :: "Forget the bad situation that you are going through, you know that everything will be all right, keep a positive mind and remember that we love you and we are moved by your side to support you in everything. Be strong."
Category :Text messages for a sad person
:: "You have to know that joy will be arrive to your life soon, now you're only going through a difficult time so it is time to get up and go ahead. Remember there is never a dawn without long hours of darkness."
Category :Text messages for a sad person
:: "Life is so precious, you just have to know how to look at it favorably for don't get down with every effort we make, and I assure you will manage to achieve your dreams, that's what life is all about. Do not get depressed because you are leading to nothing at all."
Category :Text messages for a sad person
:: "Do not get overwhelmed by the sadness that invades your being, remember you have many reasons why Lord will help you to go ahead and put you in this life to achieve your goals. Go ahead and see that you will find happiness."
Category :Text messages for a sad person
:: " Do not forget to be thankful for what you have today, especially because they have health and God has given you many beautiful things through your creation, be happy and remember there are people who spend a lot worse."
Category :Text messages for a sad person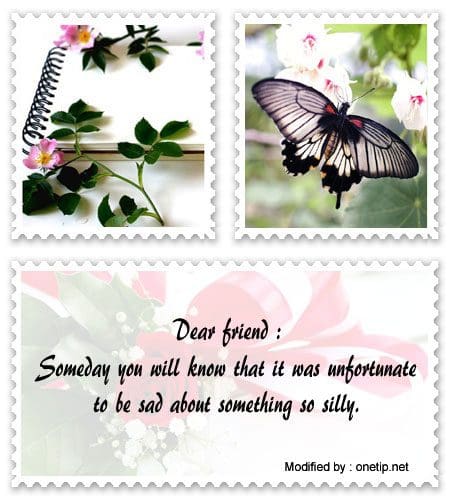 :: "Get full of enthusiasm and joy your life, do not let the sadness and reluctance make you fall into a mistake. Someday you will know that it was unfortunate to be sad about something so silly."
Category :Cheer up messages for a sad friend
:: " Be happy for the great person you are, especially since you are a son of God, and you came to this world to do great things, never forget your ideals and your dreams and so your life be filled with joy."
Category :Cheer up messages for a sad friend
:: " If you knew yourself and know which your way is on earth, sadness would not invade you. Don't be sad; get happy, let happiness come to you."
Category :Cheer up messages for a sad friend
:: "You know that without you, the world would not be as beautiful as it is today. You are spectacular person looking for happiness every day, do not let this moment to crush your life. Be strong."
Category :Cheer up messages for a sad friend
Do not forget to encourage through a message to that person who at this time is not going very well, remember to tell him or her that everything bad happened and happy moments will come. Come back soon to our website for more news. See you soon.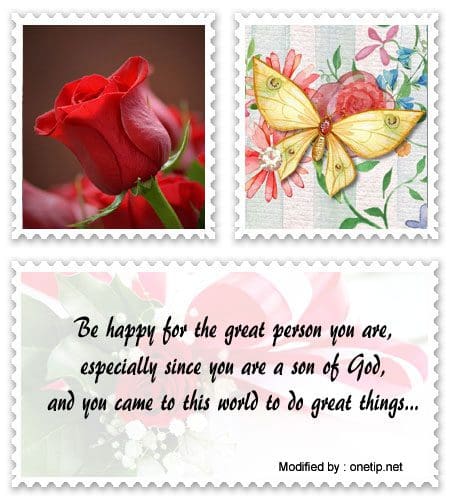 Related posts :
Beautiful friendship messages for whatsapp
Best friendship messages for Facebook
Cheer up texts for friends
Disappointed love phrases
Encouraging quotes for someone having surgery
Excellent messages for new friends
I miss you messages for friends
Phrases wishing good vacations
Images credits :
Images courtesy of "pixabay.com" / Modified by : onetip.net
If you liked this page you can help us by giving us a "like" on facebook, twitter. Also if you want you can help this website by sending your best friendship messages , and will be published, others friends will thank you .
as06gh06gh20gh