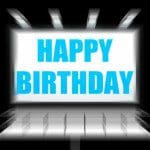 New birthdays messages for my boss
Generally, the social structure in which we live has accustomed us to conceive our chief or the head of a project we are in, as a very strict person, who does not value very much the people who work for him, or maybe as someone cocky, making all things to be done according to his interests and at the time they decide.
However, the way in which each boss behaves depends on the type of person he is, they are not always the stereotype you see in the movies, but they can also be people like you, that unfold with humility and have worked hard to get where they are now, Even though some bosses show themselves friendly and like people who you can get close to, you should not lose respect for them and the awareness of limits, because then the course in the office might be lost and the work goals may not be achieved .
However, this should not mean that we cannot establish a beautiful friendship with them, which could also enable us to learn a lot, improve as individuals and as workers. Do not miss the opportunities that arise, for example, greeting them for their birthday. Up ahead are different ways you can do it in the best way, the best of luck to you.
Free list of birthday messages for my boss:
– "People who know how to overcome their selves, like you, deserve to be respected and admired very much. Thinking about it is that I am very happy to accompany you on this special occasion today, as it is your birthday. Hopefully everything goes as you dreamed of and may your family celebrate with you in style, may your friends join you and may you be very happy. "
Category :birthday messages
– "Beloved boss, your birthday has finally arrived and everyone here at the office are really happy about it, because you are always with us, you teach us, support us and have a lot of patience with us, so today we want to repay you the favor by throwing you a little party in a way of celebration. Happy birthday and may everything goes as you expect. "
Category :birthday messages
– "Exemplary persons are those who you can believe what they say, because what they do is consistent with what they preach and I feel very honored to work for you, because I believe that you meet these characteristics with excellence. Evert day I go back to my house very happy, because although everything did not go very well, I know that from everything I rescued much to learn thanks to you, so I want to thank you from my heart for everything you does for me, besides wishing you have the best birthday ever. "
Category :birthday messages
– "It is time to celebrate, here in the office, but also at your home or in the place you choose to have fun, because that will not matter if you are with people who you want to be with. Here at work you are the example that we all love to follow, because before you arrived, the truth is that we only had negative experiences with the people who were in charge, you came to demystify the stereotype, becoming even more than our boss, a good friend. We wish you well in his day. "
Category :birthday messages
– "The real leaders stand out from the rest, because they are generous, not just in life in general, but also in the achievements they earn through work. There are greedy people who make all their team work hard and at end they keep the award to themselves, but you are not like that and that is why we value you so much. Happy birthday boss, you really deserve it. "
Category :birthday messages
The best leaders are those who can trust the people they are in charge of, who can work together and for the common good. If you belong to an office where you have a person in charge, do not let your day pass without giving him appropriate greeting, you will see how good you will feel. Come back anytime, keep in mind that we are always updating our website with lots of content that can help you deal with situations like this and many others. Best of luck.
Image courtesy of "Stuart Miles" / FreeDigitalPhotos.net
If you liked this page you can help us by giving us a "like" on facebook, G+, twitter. Also if you want you can help this website by sending your originals Sms, text, text messages, quotes, birthday messages, and will be published, others friends will thank you .
Tags:
birthday messages for my boss, birthday phrases for my boss, birthday sms for my boss, birthday text messages for my boss, birthday texts for my boss, birthday thoughts for my boss, birthday wordings for my boss