Searching sweet love messages for lovers ? Keeping your better half has never been easier thanks to these romantic phrases that melt hearts you can send by Messenger.
There are times when our emotions cloud our ability to put what we feel into concrete words, and that's why today we wanted to help you with these free love-filled phrases.
Feel free to use them and share them on Messenger to dedicate all your love to that special person.
:: "Hug me once more and let me know how much you love me; at your side I am capable of everything, my love".
:: "Everything is secondary when it comes to you, because you are my light and my priority, my life".
:: "When I think of you I smile, when I am at your side I am better, when I look at you I melt".
:: "I used to think you were a mirage in the desert, too good to be true. But every minute I spend with you, I realize that you really are that perfect".
:: "I dedicate to you the most beautiful verses and all the love of my heart, I love you".
:: "You are my north and my future, everything a man can dream of. I love yo so much !".
:: "Honesty is the fundamental pillar of any relationship and I know that I have that with you".
:: "No matter what happens, I will never love anyone the way I love you".
:: "For me, it's a miracle to know that, despite everything, when you look at me you do it with the greatest affection in the world, I love you".
:: "When you look at me, I melt and I know that you know that well. I simply adore you".
:: "I didn't think I could fall in love, but you turned my world upside down and gave me unparalleled happiness".
:: "I promise you my eternal love, my fidelity, my days and nights. I love you immensely".
:: "What we have is beautiful, pure and full of love. I thank Cupid, because ours is a heavenly union".
:: "Every day I give thanks for having you by my side; you make my life the best adventure".
:: "I love to see how we grow together, my love, learning from our mistakes and improving to be better for the other".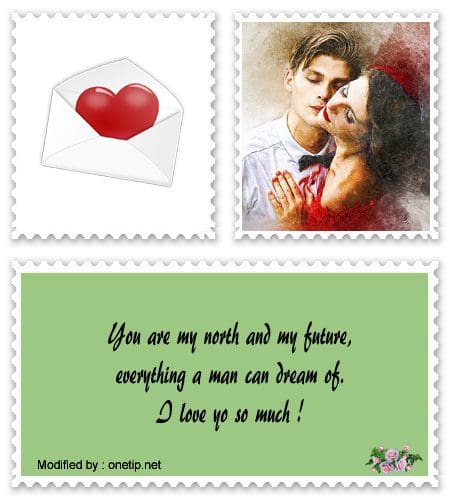 :: "For me, there is nothing more beautiful than to see you smile, nothing more tender than to see you blush".
:: "Love is the word that best sums up what you evoke in me, my life".
:: "My reason for living, you. The reason why I wake up in the morning, you".
:: "You make me take off, fly, float. You give me strength and energy; you give me love and wings"
:: "You are the answer to all my questions, the reason for my days and the great love of my life".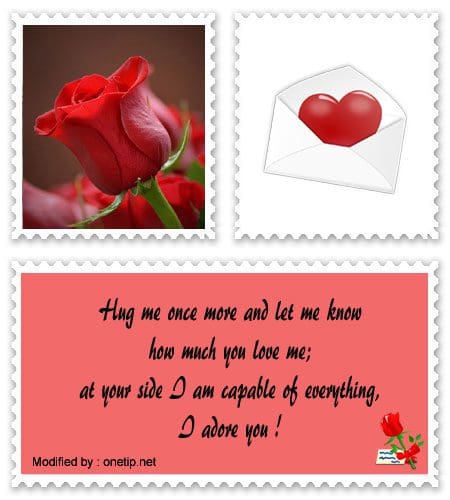 :: "You have filled every corner of my life with your magic, your love and your dedication. You are simply unique, I love you".
:: "Little by little we have built a beautiful relationship of which I am very proud. I hope that our love will continue to grow to infinity".
:: "You have taught me all that true love can achieve and I could not be more grateful. You make me fly, dream and pursue my goals; I love you".
:: "When I see you, I feel that love overflows me and that I love you more every day".
:: "If I don't have you by my side, I simply wouldn't know how to go on, because your love is the fuel of my life, you are the one that gives color to everything".
:: "You have shown me that one can grow within the couple, that there is nothing that love cannot overcome".
You will see that these beautiful love phrases will go straight to the heart of your partner and you will continue to enchant their heart. Come back soon for more free content designed just for you. See you later!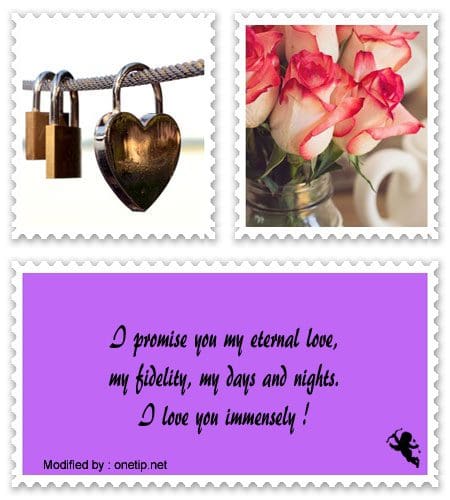 Are you searching for love letters for Girlfriend ? All of those who are in love are always looking to surprise their beloved with something beautiful, but sometimes they cannot think of what they can do to impress her. A beautiful and tender love letter is always a good alternative.
Girls love to receive poems and writings of those who they consider to be her Prince Charming or the love that has come to their lives. Impress her with a nice love letter.
Do you feel that she is your soul mate? Well do not let go of her. Here we present you a set of beautiful words you can dedicate her.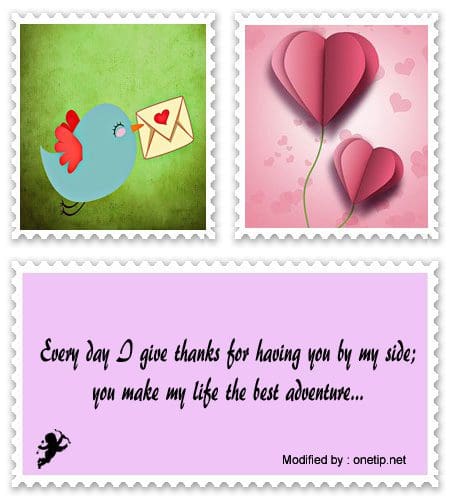 Romantic sample letter for Girlfriend
Love of my life,
I would like to tell you everything I feel for you, but sometimes it is hard for me to communicate what I might think through my actions. I am not good with words, so I preferred to write to you, because I think I'll also more honest with you.
From the day I saw you, I could not stop thinking about you.
I dreamed of you the very same night I met you, I was walking to you and could recognize you, I knew we had already found each other in our past lives, for you are my true soul mate.
I feel that you and I were born to be together and nobody could ever split us apart. You are the only woman who has filled my being.
My darling, I just wanted to thank you for always being by my side, for letting follow your path and for sharing everything about you with me. You're the one that has changed my way of thinking, of seeing life, and even of being.
Expressing my feelings is difficult for me, but I had to tell you how much I love you, you are the only star in the sky for me, the only one I see through my window.
Amid the vast darkness, I can clearly see that you are the one who lightens my way. Please never leave me, without you I would not know how to live. You're the one for me.
Now and forever, until life does us apart, I'll be here waiting for you; I will never fail you or fail your confidence, for you have brought hope to my life at last.
My heart was broken and you made me believe in love again. Without you my soul would fall apart, I'll love until the sun is extinguished and the ocean freezes its cold waters.
I've been as honest as I could telling you everything I feel for you in these lines. I hope you can trust me because everything I do will always be only for you. I love you deeply, my darling. I promise I will never leave you.
I send you all my loving and I want you to know that I am looking forward to seeing you again very soon.

I love as much as one could love someone else.
Make her melt at your glance and just a few words. A sweet and tender love letter that demonstrates your good feelings will always be a magical potion to sustain your relationship for a long time, and who knows? Maybe forever.
We wish you all the luck in the world!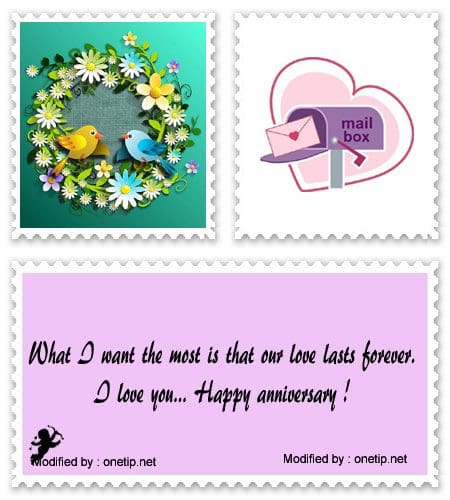 Related posts :
Best inspiring romantic love quotes
Best love messages for my girlfriend
Best love messages for my husband
Download anniversary messages for my wife
I am sorry messages for boyfriend
I Love you messages for girlfriend
Please forgive me text messages
Romantic love text messages
Romantic Valentine's Day love messages
Sorry messages for boyfriend
Sweet love words
Sweet romantic messages for Facebook
Images credits :
Love cards Images courtesy of "pixabay.com" Modified by : onetip.net

If you liked this page you can help us by giving us a "like" on facebook, twitter. Also if you want you can help this website by sending your originals love messages for my girlfriend, and will be published, others friends will thank you .
a10*fg06pu20mn