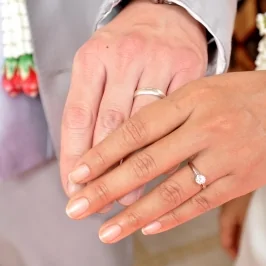 Best free quotes for your wedding invitations :
If you are getting married soon and are thinking about how to write your invitations, we recommend you use a phrase filled with feeling which urges your guests not to miss such an important day in your life.
It is always good to take care of details, even in our invitations. Thus, a couple which is about to get married should not leave out a well-written phrase with a style and a personality which suits you most.
For brides and grooms who cannot find words that reflect their love, next we will give them some nice phrases that can be included in their wedding invitations:
Download wedding free samples invitations :
– The most awaited day in our lives has come, and we want to share it with you because you encouraged us to take this important step. We know our happiness is also your own.
Category : Wedding invitation quotes
– We have always wished to be happy, and nothing could make us happier than to pledge eternal love before God. Therefore, we have decided to get married and love each other until our lives are through.
Category : Wedding invitation quotes
– We can no longer endure being apart, so we have decided to get married, and we would love you all to honor us with your presence and to be witnesses to our union.
Category : Wedding invitation quotes
– Our hearts have been together for many years and we feel prepared to start a life together, because we believe in our love above all. We are happy that this day is finally here and we would like to keep us company.
Category : Wedding invitation quotes
– We have had such an immense and beautiful love for such a long time that it has made us the happiest people in the world. And because we want this happiness to last a lifetime, we have decided to celebrate our wedding and have a great time.
Category : Wedding invitation quotes
– Thank God we met, became friends, fell in love and decided to love each other until death. We want to invite you to our religious wedding, because without you this would not be such a special day.
Category : Wedding invitation quotes
– After ten years of love, fights and reconciliations, such an important day has finally come. Following many years of reflection and maturity, we have decided to finally get married, because we have no more doubts that we are made for each other.
Category : Wedding invitation quotes
– Every woman's dream is to get married, and being such a good boyfriend, I have decided to make my girlfriend's dream come true, because nothing makes me happier than seeing her happy. We would love you to keep us company on such a special day in our lives.
Category : Wedding invitation quotes
– We no longer want to live in sin, so we have firmly decided to get married as soon as possible. Therefore, we want to invite you to celebrate our simple but beautiful wedding.
Category : Wedding invitation quotes
– After some years of savings and sacrifices, we have finally gathered enough money to celebrate our wedding like we always wanted: a big party and many guests. We count on you being with us, along with your wedding gift, of course.
Category : Wedding invitation quotes
– We are made for each other, we are soul mates and our love it the most wonderful thing we have… so, we are getting married and we would like to share this day with you.
Category : Wedding invitation quotes
Image: bigjom / FreeDigitalPhotos.net
Tags:wedding invitation quotes for friends,wedding invitation quotes for friends,wedding invitation quotes and sayings,indian wedding invitation quotes,indian wedding invitation quotes for friends, wedding invitation quotes in english,wedding invitation wording,wedding quotes,wedding invitation message