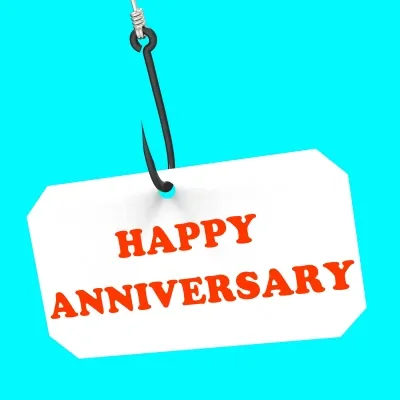 Excellent anniversary letters
When a couple fulfill a year of being together, they feel happy and hoping that their love will last much longer. This date is important to have nice details with each other and let him/her know that the love that joins you will last many more anniversaries.
If you're looking for ways to greet your boyfriend or girlfriend on your anniversary, here we leave two models of letter inspiring you to write a romantic letter to him/her leave happy. If you attach this card to a gift, such as chocolates, flowers or other special detail will create an unforgettable anniversary for both.
Free example 1 of an anniversary letter:
Happy Anniversary my love!
I cannot believe another year has passed and our love remains stronger than before. I thought I could not love you more but I can and will continue doing it while you are alive. Keep watching over you, protecting you and letting you know you are the most important to me.
I remember the day I met you, our looks and our words. I knew you would be for me and I am very happy to have been reciprocated, to have your love and celebrate by your side one more year of caresses, kisses, promises and hopes. I hope that this love continues to grow every day. Hope that this love never ends and we can continue filling with happiness.
I want you to remember how much I love you. I want you to know I will always love you and I'm willing to put all my effort to this love never dies. I know you also love me and together we will remain happy as before.
I hope we can remain being together and join my life to yours at some point. I love you, sweetheart. Thanks for making me so happy.
Free example 2 of an anniversary letter:
To my prince,
You are the love of my life. You know it and that's why we're so happy together. I'm glad I found you, having earned your love and be the owner of your heart. Needless to say that this year has been one of the best in my life, despite the problems and misunderstandings, our love overcame everything and I'm very proud of us and our great love.
I want to ask God, from the bottom of my heart, that we can stay together and continue looking at us with the same tenderness and complicity even a hundred years passes and also that one day we can join our lives. I love you a lot and I want to thank you for all that you give me.
Thanks for never let me down, for being by my side through thick and thin and for making me laugh every time the sadness was bothering me. You're the only and the best in my life. Thanks for existing, my love. I can't imagine my life without you.
We hope that these two models have been to your liking and you inspire to write a beautiful letter that he or she will keep forever in the heart.
Image courtesy of "Stuart Miles" / FreeDigitalPhotos.net
If you liked this page you can help us by giving us a "like" on facebook, G+, twitter, others friends will thank you .
Tags:
excellent anniversary letter samples, tips to write an anniversary letter, advices to write an anniversary letter, write an anniversary letter, free tips to write an anniversary letter, free advises to write an anniversary letter, good sample of an anniversary letter