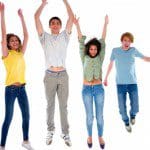 Nice friendship texts for WhatsApp
The friends with whom we are fortunate to find ourselves in life, help us make our journey more enjoyable, they accompany us, giving us their support, containment, and sincere friendship. There are times when we are blessed to meet a friend who will always be with us, no matter the situation in which we find ourselves.
Let us not allow our true friendships to be lost, let us always nurture them, giving the best we have to that special friend. A nice way to do this is by sharing with them frequently, cute messages to let them know how you feel about them. Take advantage of the technology these days and your WhatsApp to do so. On the lines below you will find a number of examples that can be of use to you.
Free list of friendship messages for whatsapp:
– "The friendships we have are a present from the Lord, may the complicity and fellowship we have with them be never lost. You do not know how good it makes me feel by always being able to rely on you, you are one of those friends that I know will last forever. "
Category :friendship messages
– "Dear friend, how wonderful it is that the Lord has decided to unite our lives, especially in these times in which I feel really bad. It makes me very happy to be able to share with you, talk to you, and listen to your advice and above all that you support no matter what. I hope we never distance from each other because I do not know if I could stand it. I love you dear friend, I hope you know you can count on me for anything. "
Category :friendship messages
– "The place you have come to occupy in my life is really special and no one will ever be able to take it, you can have that for sure, dear friend."
Category :friendship messages
– "My life will never be enough to thank you the way you deserve for being such a good friend to me. I do not know anyone who has known how to figure me out like you have and to listen to me and understand me, even put up with me at sometimes I am unbearable, and for all of that I adore you. "
Category :friendship messages
– "Dear friend of my heart, the time to give you back more than what you have given me over the years has finally arrived. Once again we are gathered and I know this will strengthen our friendship very much, because sometimes distance can complicate things a little. I am glad that you are back, I have a high esteem for you. "
Category :friendship messages
– "You are the most beautiful friend I have ever seen, with whom I share all my life with and with whom I do not hold any secret ever. I really thank you wholeheartedly, only you have known how to guide me, because before I knew you I was really lost. "
Category :friendship messages
– "Dear friend, without fear of being wrong, I yell to the world that I trust you and I could never imagine a world in which you were not here. Your unconditional support is great, so I hope the Lord gives us the opportunity to stay together for much longer. "
Category :friendship messages
– "I do not know if you have any idea how hard it is to go around the world when you do not have someone who is willing to join you, to go where ever you go and to support you no matter what, you are that person for me, the closest one that I have in this life. "
Category :friendship messages
– "Real friends are the best protection and shield that we can have to face the world. No matter if there is rain or thunder, if they said they would be with us, they will be for sure, because that is how real friendship is: unconditional. "
Category :friendship messages
– "Because I have friends like you, I have come to believe that I have the best luck in the world because I can see that not many have the same opportunities I have had because of you, so I want to thank you with much love everything you have done for me. "
Category :friendship messages
– "Ultimately, if I did not have friends like you, then the life I live would lack direction, nuances, and melodies. I cannot imagine my life without you. "
Category :friendship messages
– "We are fully synchronized, I feel you even have the power to read my mind, it is amazing and everyone notices it, I think it is because they are jealous that we have a great time."
Category :friendship messages
You will see how happy your friend will be, share with your friend these cute messages. Come back anytime, we will be working for you.
Image courtesy of "Ambro" / FreeDigitalPhotos.net
If you liked this page you can help us by giving us a "like" on facebook, G+, twitter. Also if you want you can help this website by sending your originals Sms, text, text messages, quotes, friendship messages, and will be published, others friends will thank you .
Tags:
Friendship messages for my partner, Friendship phrases for my partner, Friendship sms for my partner, Friendship text messages for my partner, Friendship texts for my partner, Friendship thoughts for my partner, Friendship wordings for my partner