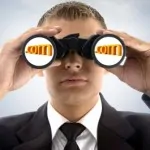 Top 5 global search engines
Searchers, also called browsers allow you to access all information contained in the network. Using the right words you can find whatever you want through the network. Search engines have evolved over time, competing to be the preferred users.
It is true that there are several search engines and they are increasingly improving its features but most of us already have our favorite browsers and these are which will be described briefly in this top 5 of global search engines.
The order in which the browsers are described is not related to its positions on a ranking given that each one of them are used by millions of users and it would be imprecise to know which is the number one.
1 – Google Chrome: Google's search engine is one of the fastest and most accurate in giving results. One of its advantages is managing tabs and customization by using Chrome extensions and themes from the store. If you have a Google account you can access your custom browser from any computer. It is a functional search engine that offers a clear and simple navigation.
2 – Firefox: Due to its stability and simplicity, this browser is one of the best in the world. It is one of the most reliable browsers related to its private mode that allow us to navigate with no worries about safe. It allows us to download several additions to endow its multifunctional potential as an outstanding browser. If you're a developer you'll like this browser because it allows you to see the code of the web pages.
3 – Internet Explorer: It is one of the most popular web browsers. One of the major advantages of Microsoft's free browser is that it has an excellent customer support. It is a fast browser that has improved its graphics and security aspect thanks to SmartScreen Filter and ActiveX but not yet clasified as a completely secure browser.
4 – Opera: One of the surprises in terms of browsers. It is one of the best thanks to its reliability, organization, security and speed. You have several options available such as Opera Turbo with which you can take full advantage saturated wireless connections. Opera weekly updates allows downloading for different platforms such as Windows and Mac and also it allows other browsers to be integrated to this platform which permits us to use our favorite browser while harnessing the features of this excellent browser.
5 – Safari: this navigator has a reputation as one of the fastest and lightweight. Its security tools are excellent, easy to use, organized but it doesn't have many customization options. If you want to easily navigate and not fussed in customizing the browser, this is an excellent option for you.
We hope this Top 5 has helped you to decide which of these browsers is best for you. Although all are very good, you can prove one by one trying to find the one that best suits your needs.
Image courtesy of "imagerymajestic" / FreeDigitalPhotos.net
If you liked this page you can help us by giving us a "like" on facebook, G+, twitter, others friends will thank you .
Tags:
the best internet tips, list of the best search engines, free internet tips, free internet advices, excellent search engines, free list of the best search engines, search engine tips, search engines advices, very good search engines, good search engines