Searching for a sweet Christmas love letter ? How beautiful it is to love and see our feelings corresponded by that wonderful man who loves us and who has become the most important person we have in this world.
If your lover has many nice love express to you then you should feel very lucky. You should not wait for him to express himself alone in your relationship but you can also dedicate some love feelings that show your love towards him.
Remember that we are at Christmas and share with your lover a nice letter in which you show your deepest feelings and you can wish to him all the happiness of the world. It will be a great gift that he will love to receive in this beautiful time.
How to write a Christmas love letter ?
For the boy who makes me sigh with love:
My love, as we are at Christmas I wanted to give you a very original gift that could show you the immense love that I have and that is why I wrote you this beautiful love letter.´
I can still remember that beautiful day in which I met you because something very special happened to me the first time I saw you; it was as if my heart was telling me that you were the man who I had been waiting for so long.
My joy became much bigger when I began to realize that you were feeling something for me too and, that was why, as soon as you started to conquer my heart, with all your beautiful love expressions, I felt the happiest woman in the world.
I never imagined that in this world there could be someone like you, a boy who is not only very handsome, but that also has a brand new heart capable of delivering a love without condition.
You can overcome any obstacles that could arise. Besides you have a great intelligence and a sense of humor that makes me laugh without stopping when I am with you.
Sometimes I think I'm in the middle of a dream because I find it hard to understand that it's true to have you by my side, but it's my reality and that leads me to make you a very special promise.
My love, I want to be your chosen one, that woman who is by your side in the good and the bad. The woman that can always bring comfort to your heart that awakens in you a great joy and makes you dream of a beautiful future and that is your perfect complement.
I hope that this love that unites us can last forever and that we never stop believing in it because I am sure that it will change our lives and guide us along the path that takes us to prosperity and happiness.
My precious man, let us prepare ourselves to enjoy the most beautiful Christmas we have ever had and keep as a true treasure all the happy moments that we will share.
Merry Christmas, sweetheart of my life.
(Your name)
Your lover will melt with love for you as soon as he receives this beautiful letter and every time you read it you will feel the same emotion, so the love he feels for you will become bigger than ever.
Do not forget to return to our page in a next opportunity, we will be waiting for you with much good news. Have a happy holiday!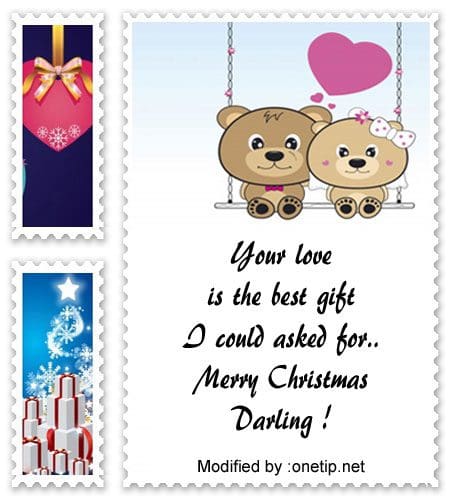 Christmas letter sample for
a great love (my boyfriend )
Christmas is a date of love, peace and reflections. For that reason nobody should miss the chance to express their best wishes to the beloved person on this Christmas seasons.
A way to express our feelings may be if we write a simple but full of love letter.
On this essay you will find some good advices to write a letter of Christmas for our big love, for that wonderful person who makes our Christmas season even more especial each season of the year.
Well then, our first advice is the fact that you must write it with you own hand, maybe lately it is really common to write millions of letter with a computer but if want to give to this letter and to our words a great meaning, then it must be written with our own hand.
But maybe our way to write is terribly awful, our calligraphy sucks, in which case it is highly recommendable to do it with a computer and using the cursive option on it.
Our second advice would be to try to reflect all of our feelings and good wishes to our couple. It is really important that while we are writing the letter, we must think about all those special moments we lived along with our beloved person. If it is possible, we must have a picture of our beloved person next to us as inspiration.
You must keep always in mind that the principal advantage of writing a letter is actually the fact that we can say things which we cannot express personally, maybe because we feel embarrassed or only because we are a little timid.
Oh by the way, it is not recommendable to write certain sad or negative aspects of the relationship.
Our last advice is that you should write the letter of Christmas totally clear, with nice calligraphy, otherwise our beloved person will have to decode each word written in the note and we will live an uncomfortable moment caused by this mistake.
Now, you must try to avoid the orthographic mistakes, this is because many people do not like to find these kinds of surprises on a letter. Finally, also remember that it is really important to write the date, as any other letter.
For those girls who want to write a nice letter of Christmas for their boyfriends but they do not know how to start, next we will show you an example of a letter of Christmas for that so special person, our boyfriend: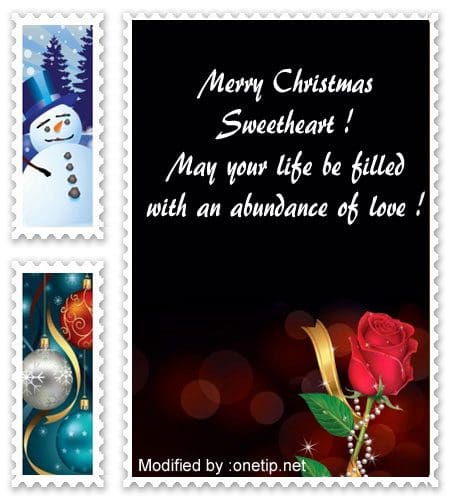 Heartfelt Christmas love letter
London, December 24th, 2020
My beloved Dario:
On this Christmas season I have so many things I would like to tell you. The first one is that I am really happy of being part of your life.
I feel blessed because I am in love with a so good and perfect man like you are and that fact that you feel the same way as me.
You have changed my life completely; by your side I am really happy each day of the week.  For being like you are with me and for changing me into a better person, on this Christmas I wish many things for you:
My love, on this Christmas I wish you to enjoy a beautiful day with your whole family. I wish the little child Jesus to be on your hearts and the blessings fill your home.
I really wish you to keep that inner peace and happiness each day of you entire life. I wish you to be as secure and intelligent as always. I hope God to be present on every act you do in your life.
I wish that you keep seeing the bright side of the things and each time a really big trouble messes with you, it will be considered just like another test of God to know if you are really as clever as everyone think. I hope you do not feel lonely anymore because I will be with you forever and ever.
I wish you do not forget that you are a wonderful man and that you are the most beautiful person I ever met in my whole life.
But on top of this, my love, I wish our love will remain forever on our hearts and each day it just get bigger and bigger.
I really want to make of you the happiest man around the whole world, because you deserve this and much more. Merry Christmas! God bless you today and forever.
With all my love
Fernanda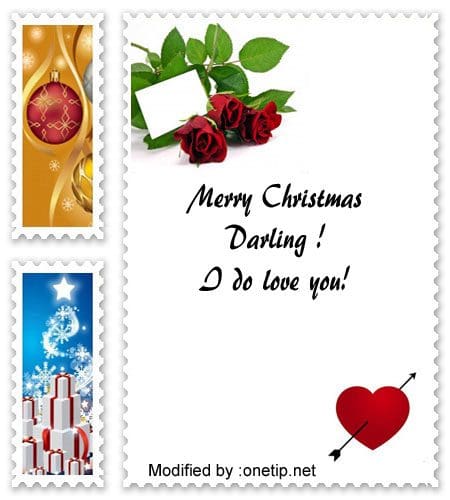 Related posts :
Best merry christmas texts
Christmas letter to boss
Christmas wishes for Facebook
Christmas wishes for Whatsapp
Christmas words for a former love
Corporate greetings to say merry christmas
Download best christmas phrases
Download best christmas wishes
Download best merry christmas greetings
Download best christmas dinner speech
Download merry christmas greetings to my boyfriend
Download merry christmas quotations
Download new year messages for my bf
Download original christmas greetings
Download best romantic christmas cards for girlfriends
Download christmas wishes to employees
Download top christmas quotes
Merry christmas best phrases
Merry christmas greetings, sayings and phrases
Merry christmas text for my girlfriend
Merry christmas to my wife
New free christmas messages
Original christmas wishes
Romantic christmas letter to my boyfriend
Top christmas wishes messages and greetings
Images credits :
Happy birthday cards  : Original images courtesy of "Mister GC,Hittisak,Feelart,hinnamsaisuy"/ FreeDigitalPhotos.net,Modified by onetip.net .
If you liked this page you can help us by giving us a "like" on facebook, G+, twitter. Also if you want you can help this website by sending your Christmas letters, and will be published, others friends will thank you .
as03df10gh20er**