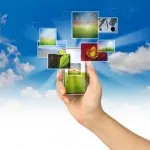 Edit photos on your Android device with these apps
If you are one of those people who enjoy taking a lot of photos to upload to social networking sites like Facebook, Myspace, Twitter or Instagram, so that all the contacts can see, this section is perfect for you.
Through the Play Store you can find and download a lot of applications that will be of much use when editing your pictures to improve the quality and use your creativity on them. Here we will tell you about the most used applications for all Android users, download them and confirm that they are the best ones.
Camera Zoom FX
With this application you can use your creativity to the fullest. To start, it allows you to improve the quality of photographic camera using your device, so you can improve the resolution of your photos and apply different color filters, brightness and many more effects. You also have the option to crop images, as well as stick to one image over another and many more options.
Photoshop Touch
If you are a user of Photoshop on your desktop or on your laptop, Photoshop Touch is the perfect application for you to use on your smartphone or on your tablet. With this application you can have the basic features of Photoshop plus the option to edit images, use layers, reduce defects, add text and many additional options you know.
Aviary Photo Editor
Many consider this application is the most comprehensive in the world for photo editing and any other images on Android devices. Once you have it installed you can do a full edit and modify your photos to get the results you crave. Within its earnings highlight the reducing red-eye, applying text, changing color teeth or hair and many others.
PicsArt
This app is quite popular in the Play Store and no wonder because through it you can make a professional edition, make your own collages and use one of the many effects that this application is available. One of the utilities that stand between other options is to take these low resolution photos and improve their sharpness. Also it is useful for the most common utilities that lets you modify the color, brightness, highlight the edges, making custom frames and many more.
Photo Studio
This application stands out for having a very simple and practical interface that allows you to edit your photos on any computer that has Android system. By using this application you will have at your disposal more than 200 different types of filters that allow you to get a lot of effects in your photos so that you find your own style. Photo Studio lets you edit through its multiple options and even use tools to automate editing.
Pixlr Express
This is a quick and easy, highly recommended for those who are new to the world of photo editing application. Significantly, this application allows you to resize a picture without changing the sharpness and apply different effects and filters in all photography or even in one part of this. It will also give some tips that will help you improve your photos.
Image courtesy of "jannoon028" / FreeDigitalPhotos.net
If you liked this page you can help us by giving us a "like" on facebook, G+, twitter, others friends will thank you .
Tags:
tips for androids, good tips for android devices, excellent apps tips, good tips for photo edition, edit photos in your android, photo edition tips, photo edition advices, free apps tips, free apps advices