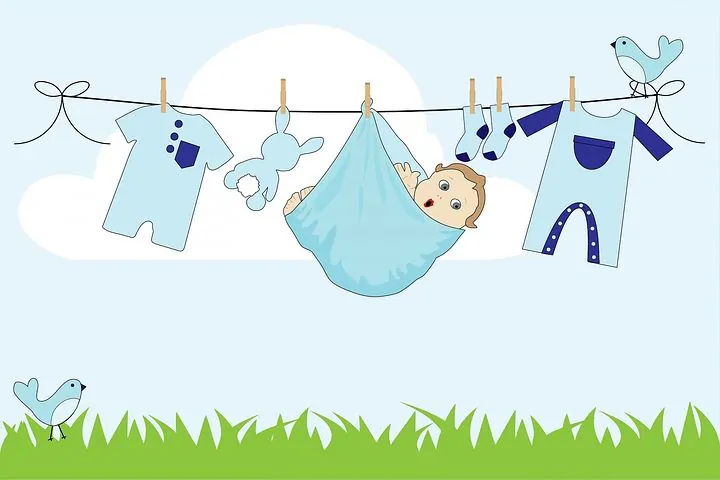 Searching for best Father's Day letters , Father's Day love messages & letters , Instagram Father's Day cards? .
Now it is the turn of your beloved Father to celebrate his day and surely you will be in the middle of the preparations to entertain him and make him feel very happy, so we want to help you with a very original idea, what do you think if you give your Dad a nice letter in his day?
You do not have to be a recognized writer to express your feelings through some words, we will help you by bringing you some original letters that you can use to share directly with your Dad or that you can use as an inspiration to compose your own.
My dear Dad:
You are the best teacher I have had in this life because you are full of wisdom and not only have you been able to help me with my duties, you have also given me the best advice I have ever received and the lessons I use throughout each day .
But just as your mind is full of wisdom, your heart is filled with the most precious feelings, that is why you have always given me your love, even when you have had to put on a hard hand, when I have deviated from the path of goodness, to overcome the greatest obstacles to give me the best.
You are a very good man, with true values and totally dedicated to your family, that is why you have found the strength to continue even in the midst of fatigue and difficulties and that is the reason why I owe you all that I am and all that I have.
Dad, in your day I want to wish you all the happiness in this world because you deserve that and more.
I love you Dad!.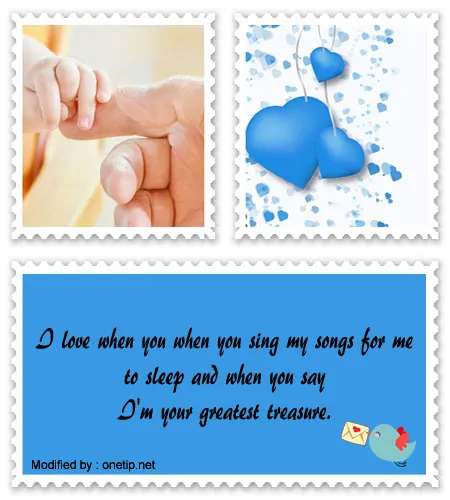 My cute Daddy:
On this occasion I wanted to give you a very special gift that I hope you can keep inside your heart forever, because I send them to you with all my love, and these words come from the depths of my soul.
Dad, you are like a superhero who despite not having a disguise and a cape has taken care of us at all times, you have freed us from many dangers and you have guaranteed our well-being and our happiness.
You are the king of a beautiful kingdom that is our home, where peace and harmony reigns, and beside Mom, you have been able to raise us with understanding, justice and much love.
That is why my brothers and I are happy people and we follow the same values that you have cultivated in our hearts.
I will always thank you for being the best Father that exists in this world, so with all my love I wish you a Happy Father's Day.
I love you Dad.
Your Dad will forever remember this Father's Day as one of the best he has ever celebrated. We hope you continue to visit our website where you will find many new phrases.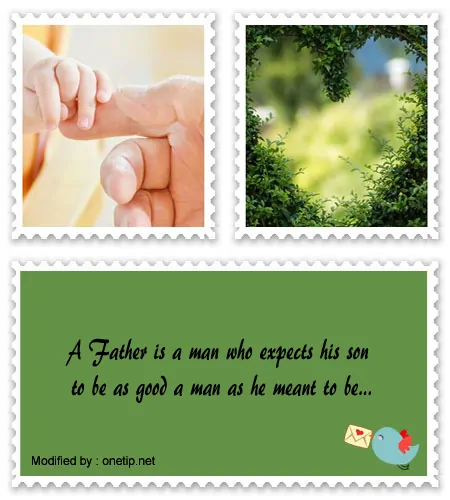 Your husband will be very surprised if in the Father's Day he receives a note from his baby. This may be possible with your help.
Write a letter expressing what your baby would express to his Dad on his day.
He will feel very happy because through his son note he will know that everything is all right in such a special day like Father's Day.
In this section we have drawn two examples of letters from a baby on Father's Day, personalize them as you like and make your husband a happy Dad.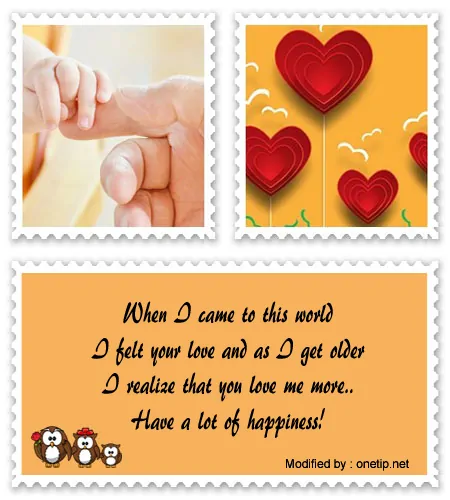 From: Valentina
To: My Daddy
Dear Daddy, maybe you think you're in a dream to look at my name on this note, but you're wrong, I love someone who has always given me his support.
I feel a great joy to be your little girl just as you wake up go to my crib and tell me how much you love me and caress my face.
Since I was in my Mommy's belly I felt a great love and when I was born and you told me I am the most wonderful thing God has given you.
I love you for many reasons Daddy, because every day you go out to work to give me everything I need, because every day you make a great effort for me to feel very proud of you and most importantly because I know your love for me will never end.
I will adore you lifelong, when I learn how to speak I will repeat that I love you and when I learn to walk I will go everywhere you go.
On this special day I want to tell you that I wish you many congratulations, you're a great Dad and the love I feel for you will never change. Have a nice Father's Day, my Mommy and me will remain together forever.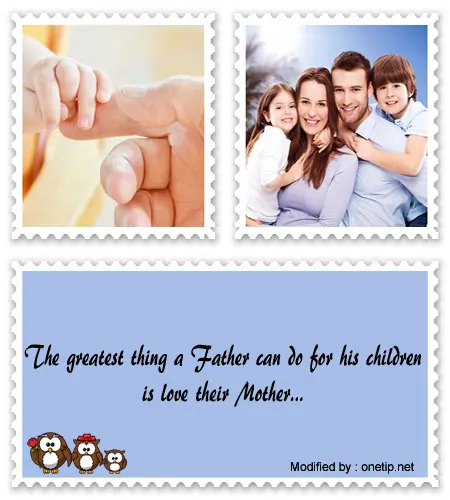 From: Carlitos
To: My Dad
Appreciated Dad on this Father's Day my Mommy helped me to write this note with love for you.
When I came to this world I felt your love and as I get older I realize that you love me more.
I have always heard that you had some fear for my arrival because you did not know if you would be a good Dad, I can truly say that you are the best Daddy of all.
I want to ask you to forgive me for waking up at dawn sometimes, I am still tiny and I require care but the days fly by without you noticing so I will grow up to become in a big boy.
I love when you play with me and make everything for me to have the best, when you sing my songs for me to sleep and when you say I'm your greatest treasure.
I love you Daddy and this feeling gets stronger every day as you live to make me happy and take care of me.
This Father's Day I hope it is filled with unforgettable and much joy. Thanks for being so kind to me. I love you with all my little heart.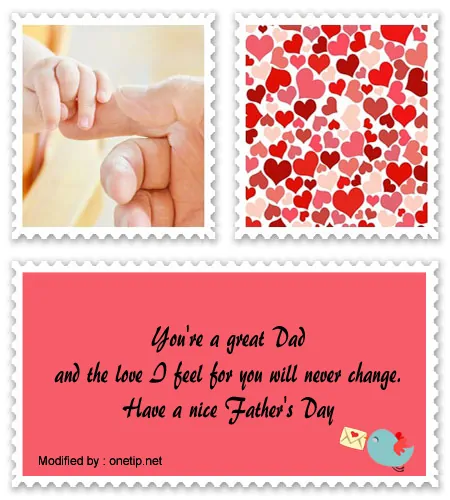 Images credits :
Father's day love cards courtesy of "Pixabay.com" , Modified by onetip.net
Tags:
how to write a Father's Day letter , excellent Father's Day letter samples, tips to write a Father's Day letter, advices to write a Father's Day letter, write a Father's Day letter, free tips to write a Father's Day letter, free advises to write a Father's Day letter
Images credits :
Fathers' Day letters & love cards courtesy of "Pixabay.com" , Modified by onetip.net
If you liked this page you can help us sharing with your friends on Facebook,Instagram,Messenger,Twitter,Whatsapp. Also if you want you can help this website by sending your best fathers' Day letters, and will be published, others friends will thank you .
as27nm06jk22rt**