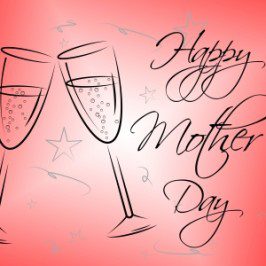 Cute Mother's day texts
Some of the most special beings in the world are mothers. As Mother's Day is approaching there is nothing better than to have a nice detail with her by sending any of the texts we offer you in this article, choose the one you like most and write it down on a card or send it via social networks.
Free examples of mother's day texts:
– "The love of a mother is unconditional and so no matter what we do, she is always there to support us, comfort us, take care of us and help us become better people. A mother is able to give her life for her children, so on this mother's day, I want to thank you for everything you have done and continue doing for me. Happy day mom. "
Category: mother's day texts
– "When a woman becomes a mother there is no barrier or obstacle that will keep her from standing beside her children to give them the best that she can. The love of a mother is the most unconditional love that exists in the universe, so on this special day, I wish you all the best mom. "
Category: mother's day texts
– "One of the most valued titles worldwide should be the one mother because it is the one that demands the longest time, involves the most sacrifices and has had the greatest influence on our society. Congratulations to all mothers in the world, thank you for showing me all your love. "
Category: mother's day texts
– "There is no greater happiness for a mother than to be close to their children sharing all their special moments, since they listen to their first words and take their first steps until they become a grandmothers. Thanks for always being with me mom, have a happy day. "
Category: mother's day texts
– "Mother's Day is celebrated once a year, but every day should be special for them and we must always show our gratitude and affection for their infinite love. Congratulations to all the mothers of the world. "
Category: mother's day texts
– "Although the world turns its back on you and nobody wants to hear from you, there is someone who will always welcome you with her arms open and that person is your mother. Mothers are angels sent by God to look after us in this world, so they deserve the best of us, our love and gratitude. Happy day dear mom. "
Category: mother's day texts
– "Thanks to you I am who I am today, thanks to you I had a wonderful and happy childhood, thanks to you I have a life and I owe you everything dear mom, all the best on your day."
Category: mother's day texts
– "God has blessed me because he gave me the most wonderful mother in the whole world, and an exceptional, wise, and loving grandmother and aunt, who love me as if I were their own son. To all of them, I wish a happy Mother's Day. "
Category: mother's day texts
Greet all mothers on their day, especially the woman who gave you your life and who gives her best for you, your mother. Share any of these texts with her and you will see that she will be very happy on this special day. Do not forget to come back to our webpage for more texts that are special for every occasion.
Image courtesy of "Stuart Miles" / FreeDigitalPhotos.net
Tags:
beautiful mother's day texts, download mother's day texts, new mother's day texts, original mother's day texts, send free mother's day texts, mother's day texts examples
If you liked this page you can help us by giving us a "like" on facebook, G+, twitter. Also if you want you can help this website by sending your mother's day texts, and will be published, others friends will thank you .