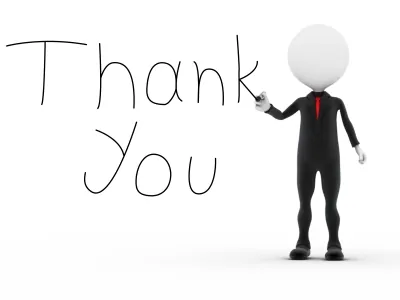 Good thank you letter to a buyer
Nowadays, with new companies constantly coming into the market, having permanent buyers is almost a privilege. For the last 10 years, internet has helped small and big companies add new customers and keep the existing ones.
Although in modern times companies can keep in touch with their clients, thank you letters are another way for firms to consolidate commercial links with their consumers. In thank you letters, firms thank their customers for the purchases and consumption in their businesses, and they invite their buyers or clients to continue investing and trusting them.
If you own a business and want your consumers to feel you care about their needs and thank them for their preference, then you must write a thank you letter and you will see your relationship with your clients improve. In this article we present you some model thank you letter to a buyer.
Model n° 1 of thank you letter to a buyer:
Lima, January 10, 2009
Ms. María Elena Ramos Vílchez
General Manager
Industrias San Camilo
Lima
Dear Ms. Ramos:
We are pleased to greet you and express our deep gratitude for buying a new batch of working uniforms for your distinguished company´s employees. We thank you once again for your trust in us, and we assure you we will keep on improving to offer you a better product and service. We hope you continue trusting us as you have done for 2 years.
We would like to take this opportunity to inform you about the new winter uniform models we will launch, and we ask you to send us your comments or suggestions about any of our products to our corporate email (txalgfn@hotmail.com). We will keep your comments and suggestions in mind for our improvement.
With no further ado, I leave you and thank you again for your preference and support for my company.
Sincerely,
Julio Vélez Duran
Manager
Textil Algodón Fino
Model n° 2 of thank you letter to a buyer:
Quito, February 11, 2010
Mr. Maco Antonio Vera Solazo
General Manager
Supermercado Francis
Quito
Dear Mr. Vera:
We hereby greet you cordially and express our gratitude for buying a new batch of home chairs and furniture from our company. We are glad your company upheld their trust in us, which motivates us to continue improving to offer better products in the future.
Additionally, I would like to inform you that we will be posting offers for our chairs and tables for the next season on our website (www.maderabuena.com). We hope you send us your comments about our products to our email maderabuena@topleft.com. We value your opinion very much so we can improve and offer you better products.
I bid you goodbye and thank you once again for your trust in us.
Sincerely,
Miguel Torres Pérez
General Manager
Madera Buena S.A
Image: FreeDigitalPhotos.net
Tags:
excellent example of a thank you letter to a buyer, free example of a thank you letter to a buyer, free sample of a thank you letter to a buyer, good thank you letter to a buyer, thank you letter to a buyer, nice thank you letter to a buyer, Sample thank you letter to a buyer, sending a thank you letter to a buyer, the best thank you letter to a buyer, very good free example of a thank you letter to a buyer