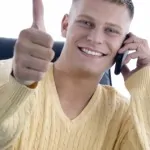 How to send free messages to mobile phones in England
As social beings, all the time we need to be close to those who we care about; however, sometimes physical distance or the little time we have make it impossible. Considering this, is that we believe it is important to take into account everything all the progress and advances that the communication technologies have achieved, because frankly now it is very strange that a place is disconnected from the world. Being able to communicate with someone, thousands of miles away, is no longer a novelty, but a daily fact.
Furthermore, this communication is no longer exclusively done by telephone and with high rates per minute, but there are now various messaging services and possibilities of live video conferencing using the internet, having the possibility of being with people far away. Imagine what it was like in the past, and contemplate how it is now; the difference is simply abysmal. So, given this, we cannot leave it aside and have to use it to our benefit, they are creations from man to man, let us not leave them aside.
Mainly, we find that the more developed devices are computers, either desktop computers or laptops and cell phones, which bring us closer to the rest in very simple and intuitive ways. On the past, the most we did was to send an e-mail, but now we can also learn all that our friends and contacts are doing through social networks like Facebook or Twitter, where news and random facts are published almost instantly, and no matter where you are, you will see the posts from anywhere in the world.
Basically, is does not only represent an incredible saving, but the immediacy is also a major change in the outlook. Calls from one country to another used to be unaffordable; nowadays, as long as you pay for an internet connection, your calls can be free or have incredibly low prices.
Whatever the situation, our objective is to advise you to keep you to always maintain contact with the people you care about, especially if they are in England. What we have brought you, specifically, are a series of steps so you can send free SMS, leaving aside all money issues.
To start, identify the phone number of the person with whom you want to communicate and before it place the following numbers: 44. With this code you will be able to communicate with England, as well as send messages to this country.
Furthermore, we want to introduce you to some websites that will help you send your messages completely free of charge.
CBF: It has a very intuitive platform and what it asks is that you enter the phone with which you want to communicate, then you write whatever you want to say and you send it. As a weakness, this page limits you to only one hundred and thirty seven characters per message, which more or less happens on Twitter. Other than that, everything else is perfect. If you are interested in finding out more about this page, we leave you the link here: www.cbfsms.com
Another good alternative to that page is www.twinsms.com, which will ask you, first, to register with your phone number, your email adress and personal password. Then, they will send you a confirmation code to your phone and the process is complete. With it you can access their services and send SMS to the country you want.
We also find applications that have these similar characteristics or that can be downloaded on to your smartphone, for example. Among them, if you happen to have an iPhone, you can use www.smsfree4all.com/index.html, or directly look for "smsfreeall" at the Apple Store and in there you will find the explanation of all the steps you need to follow so that, in a free and easy way, you can contact the people you want in England with an SMS message.
We believe that the advantages of all the technological advancer are clear and that, therefore, you should not let them pass so easily. If you have any doubts, be encouraged to review the web sites we have recommended you, we are sure that you will be happy. Hopefully they will help you and you will be encouraged to share them. See you soon with more material, keep in mind that we are always updating our website with a lot of free content for you.
Image courtesy of "imagerymajestic" / FreeDigitalPhotos.net
If you liked this page you can help us by giving us a "like" on facebook, G+, twitter, others friends will thank you .
Tags:
how to call UK cell phones, call free to UK, call for free to England, call to mobile phones in UK, free messages to UK mobile phones, send text messages to UK cell phones, free sms to british cell phones