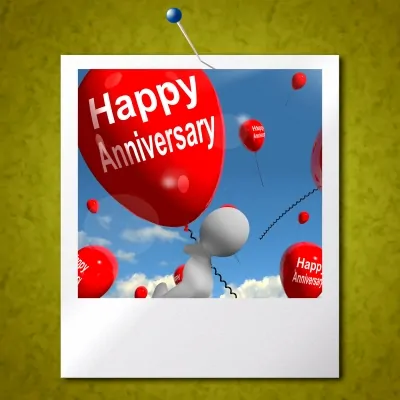 Download anniversary texts
Getting to the date of our anniversary is something very special, as it is a whole day dedicated entirely to celebrate the nice relationship we have with our partner. Not only are we celebrating love itself, but also the whole journey we have had together, the good and the bad things, but mostly what we have learned together.
Not everything has always been pretty and perfect, it has not always been just laughter and happiness, but it is precisely the ups and downs that allow us to learn more of the other, to know how to approach and how to deal with difficult situations when they arise.
So taking all this into account, we must never let the opportunity pass to make a toast with her for all the beautiful things we enjoy, expressing your feelings to her in the most profound possible way, it does not have to be a text of an exaggerated length if you writes it from your heart.
Free examples of anniversary texts:
:: "The last twelve months with you have made me change the way I live completely, you have taught me many things and I have learned to love you too much; It is as if, through what you give me, I have been able to come closer to you, because you have believed in me, in the things I do and the ones I can do, and the truth is that it inspires me a lot. I love you and I want to live with you forever, I hope you enjoy the celebration of our anniversary; I have planned many surprises for us. "
Category: anniversary texts
:: "We are celebrating another year together and I still cannot believe I have the chance of waking up every day next to you, looking at you and falling in love even more, as if that were possible. How fortunate I am, my love, that you have given me this wonderful opportunity to love you. I longed for it for a long time and now I am finally getting it, I have the opportunity to be with you and I could not want anything more. I adore you. "
Category: anniversary texts
:: "I remember like it was yesterday, the first time our gaze crossed, how my skin bristled and how automatically and inevitably from that day, I keep falling in love with you every moment we spend together. You have made me a better person and there is no way my life is long enough for me to thank you for it. I can only give you all my love and do it every day. Happy anniversary, my life. "
Category: anniversary texts
:: "We have traveled and lived many roads together, we have laughed, we have cried, we have celebrated our achievements and we have accompanied each other through painful times, which I think has given us a great strength that characterizes us now. How well I feel for having stayed longer that day, for addressing you and for having that conversation that, who would have thought, trigger this wonderful relationship. I want to provide for you, for me and for all the years that we have still to live."
Category: anniversary texts
:: "I do not have the least doubt that, although one hundred cataclysms came, although the earth was torn in two, although I died, I would still love you. You are the love of my life and I thank the heavens and the Lord for having placed you in my way; I could not be happier. Happy Anniversary and may there be many more to come."
Category: anniversary texts
:: "Seeing you so cute, so beautiful, so gorgeous, it makes me remember the day we met, I cannot believe that, despite all the time that has passed, you still continue dazzling me as that first time. But you not only dazzle me, but also surprise me with your maturity and wisdom, always guiding me to be a better person, to take the right decisions and to pursue my own way, my goals and my dreams, the ideals that we now share and that I persecute with you."
Category: anniversary texts
:: "This anniversary, I am sure, will be the best of all because we love each other more than ever, as the synchrony we have is wonderful. I adore you."
Category: anniversary texts
We want to give extend to you our warmest congratulations for this important milestone day in your relationship. It is wonderful to find someone, to love him and to be loved back, especially in this difficult time in which we live.
Image courtesy of "Stuart Miles" / FreeDigitalPhotos.net
Tags:
beautiful anniversary texts, download anniversary texts, new anniversary texts, original anniversary texts, send free anniversary texts, anniversary texts examples
If you liked this page you can help us by giving us a "like" on facebook, G+, twitter. Also if you want you can help this website by sending your anniversary texts , and will be published, others friends will thank you .