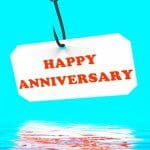 Download cute anniversary texts
An anniversary holds a special meaning as it represents one more year since the start of a relationship or the day of your wedding as well as the love the couple for one another, the beautiful moments they have shared together and the difficulties they have overcome, all of which are memories and important lessons that they will remember for all their lives.
A nice touch that you can have is sending a small text in which you express all your feelings making your partner very happy when he or she receives them. Choose the one you like most and send it through a card or social networks.
Free examples of anniversary texts:
– "In this year of relationship you have managed to bring out the best in me. You have inspired me to always improve and thanks to you I got to know this wonderful feeling called love. I want to promise you that we will always be together because we were born for each other and it will never change. I love you very much, happy anniversary. "
Category: anniversary texts
– "One more year has passed since we started this beautiful relationship and even now I feel like as if I was dreaming. There is so much happiness in my heart because when I wake up and open my eyes I see you and everything around me gets illuminated. I thank God for intertwining our paths and for allowing me to win your heart. Hope we have a nice anniversary my darling and may there be many more to come. I love you so much!"
Category: anniversary texts
– "Remembering our first kiss makes my whole body shudders as from that moment we began our love story. Today we celebrate another year and I feel very lucky to have you by my side. I will never get tired of thanking you for all that you do for me, you are a very special person and with you everything is wonderful. Congratulations on our anniversary my darling! "
Category: anniversary texts
– "If you ever ask me to cross the seas or walk through the desert I would be happy to do it as long as I have your love. You are the person I was waiting for all my life and I recognized you from the first time we met. On this special day we celebrated on more year since we started this relationship I want to tell you that I will love you forever and that nothing will ever separate us. Congratulations!"
Category: anniversary texts
– "I feel an enormous joy every time my eyes behold your dazzling beauty. You have captivated my soul because you are beautiful on the outside and on the inside. I want us to spend the rest of our lives together. Congratulations my dear princess, today we will celebrate our anniversary big time. "
Category: anniversary texts
– "Today is a great day because we are celebrating another year of our relationship and that means we love each other even more than before. Our love grows stronger every day and I fall more and more in love with you. Congratulations on our anniversary, my love. "
Category: anniversary texts
Remember the importance of celebrating your anniversary. Receive our congratulations for this special day, we hope that everything goes smoothly.
Image courtesy of "Stuart Miles" / FreeDigitalPhotos.net
Tags:
beautiful anniversary texts, download anniversary texts, new anniversary texts, original anniversary texts, send free anniversary texts, anniversary texts examples
If you liked this page you can help us by giving us a "like" on facebook, G+, twitter. Also if you want you can help this website by sending your anniversary texts, and will be published, others friends will thank you .