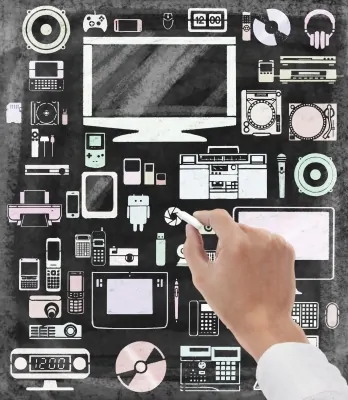 Android Operating System
The Android operating system was originally created to be used in third generation mobile gadgets, but it soon was also used in other mobile gadgets such as notebooks, i-pods, mp3s, tablets and even home appliances such as washing machines and microwaves.
In 2010, smartphones with Android had the first place in sales in the United States. Currently, Android holds a 40% market share worldwide in third generation mobile phones, above Symbian OS and iOS.
Something that distinguishes the Android mobile phone operating system from iOS and Windows Phone is that it has an open development and people can get to the source code and the problems list, where we can see unresolved problems and report new problems. In this article we will find out more about this operating system.
THE BEGINNING
In 2005, Google acquired Android Inc. It was hardly known then that Android was developing mobile phone software, which suggested Google intended to enter the cell phone market.
On December 5, 2007, during the "Open Handset Alliance" opening, Android was introduced as a support platform for mobile equipments using the Linux Kernel 2.6 version. Since then, Android has grown and it now is one of the most popular mobile operating systems in the world.
CHARACTERISTICS
These are Android's main characteristics:
• Connectivity: it supports connectivity technologies such as Wi-Fi, Bluetooth, GSM/EDGE, UMTS, WiMAX among others.
• Messaging: the popular SMS and MMS are available, along with Android's Push Messaging service.
• Video call: using the HoneyComb version, Android supports video calls via Google Talk.
• Multimedia support: it supports the best known formats such as JPEG, MP3, MPEG-4, WAV and others such as WebM, H.263 and H.264.
• Multi-tactile: Android has base support for mobile gadgets with multi-tactile screens.
• Storing: it has a SQLite base which is used for data storage.
PROGRAMMING
Developing Android applications is very easy, and you only need a basic knowledge of Java and the Google software development kit, which can be downloaded absolutely free.
GADGETS
Android is the most used operating system in mobile gadgets such as notebooks, tablets, i-pods, mp3 players and more. Android has grown well into the market in a short time, and it is has the highest development potential in mobile phone service.
It is estimated that there are currently more than 400 000 applications for Android, and that around 500 000 mobile gadgets are activated daily. The prices of gadgets with Android range between 100 and 600 euros, depending on their technical differences and novelties.
Image: FreeDigitalPhotos.net
Tags:
connectivity technologies, video call formats that android supports, Android's Push Messaging service, android operating system, third generation mobile gadgets, notebooks, tablets, third generation mobile phones, android mobile phone operating system, windows phone