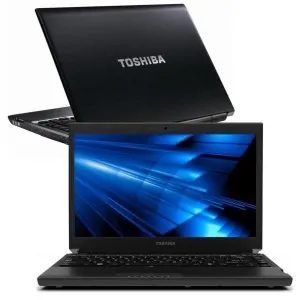 The best 5 laptops on the technological market ? :
Today actually, the portable computers or laptops are in great demand, because these allow us to develop the same work as if we are using a regular desk computer. On the current market there are many brands and models of portable computers, which can change according to the price and the functions offered by each one of these new systems. For that reason, we have been doing a research and we present the best 5 laptops you can get on the market, which will be mentioned next:
Toshiba Portege R700 : It is a portable computer with a 13.3 inches screen and a QWERTY keyboard. The battery of this system can last about 8 hours working continuously. It plays CD and DVD. Besides, on its structure it shows 2 USB ports, a HDMI port, and an audio plug in and out, Express Card Slot, Network Port, Security Slot, RGB Port, Esata/usb Sleep y charge combo. This portable computer was designed for a company's associated member; likewise it was designed with materials which help to the ecology and the common environment.
Apple Air 13 inches : It is another portable product created by the APPLE Company; the latest version possesses a one-aluminum piece made beautiful design.  Its compact design allows to the user a safe and comfortable performance wherever it is. This portable computer is the only one that has a flash hard disk, which is divided into 4 memories of the 32 GB chip kind. The dimensions of this very light portable computer are 0, 3 – 1, 7 cm high and 32, 5 cm wide. Its weight is over 1, 32 KG.
Macbook Pro 15 inches : Is the most sophisticated portable computer the user can dream about, because its design, size and form go according with the necessities of the user. It presents a new trackpad multi-touch. It has Ethernet connection ports, Fire Wire 800 ports, a Mini Displayport port, two USB 2.0 ports, a new port for the latest SD card, audio plug in and out and a Kensington security port. Its connection to internet is wireless with a Wi-Fi Airport extreme wireless connection. It also has a graphic processor GeForce GT 330M of NVIDIA with 256 MB of memory. It helps to have a better resolution and stability when you are like an addict to the videogames.
HP Envy : The most sophisticated and newest laptop that the HP Company offers to the actual technological market, it has a 17.3 inches LED screen with a 1038p per 1920p resolution which allow us to appreciate a better image with the videogames, video movies and applications. It counts with a four nucleon Intel corei7 processor, likewise it has a 4 GB RAM memory and it can be expanded to 8 GB. It also has the kind of connections USB 2.O (3 ports), eSata combo, a HDMI port and 5 card readers.
Sony VAIO VPCZ128GX : Is a portable which has incorporated an Intel Corei5 processor with an 8 GB RAM memory on it. It has a display over 1600p per 900p, with a LED screen. Its graphic processor is NVidia GeForce GT 330M with a capacity of 1 GB. Besides it counts with interfaces USB 2.0, Ethernet RJ-45, a VGA display port, audio plug in and out and a HDMI port.