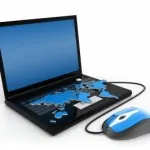 Send SMS to any mobile through Internet
Surely, more than one occasion we have faced the situation of having the need to send an SMS but unable to make it because of the lack of credit in your mobile. At this time many people use Facebook chat and Twitter to keep in touch but it is not possible that all people are online all the time. We also have applications like WhatsApp known but not everyone has a cell phone that allows you to install these programs.
Perhaps that is why the cell phone operators have incorporated instant messaging service on its website, although these services are limited to a certain number of posts and you must be a member of the same company, and for you to send one it is necessary to have a key provided by your operator for using this service.
So you're wondering what choice do you have to send your text messages if you do not have mobile credits. Well do not worry, because you say that there are many websites that offer you the ability to send text messages to any part of the world in a free and unlimited number. Then we will tell you which websites are most used for sending SMS.
TWIN SMS: Using the services this site provides you will be able to send all the text messages you want to a mobile of any operator, not only nationally but also internationally. All you need to do is enter the www.twinsms.com website and register, after which you will receive a key on your phone that lets you activate the service. You will be able to create a list of up to 20 contacts which then send individual text messages or bulk. Use this service and you will not doubt that the recipients will receive your message.
SMS MASSAGE: It works in a very similar way to the above as it allows you to send SMS to any mobile anywhere in the world. To use the services of this web there is no need to register, so you just have to enter the http://www.sendmassage.com link, select the country to which the number you want to send a message belongs, then enter the phone number and write a message up to 155 characters. Finally, you need to enter a captcha code, and your message will be received by the recipient.
SMS SLIDE: This page is in English but has a very simple interface so you will have no problem when using it. All you have to do is entering into the link http://smsslide.net and select the country of destination and automatically appears the country code to which you add the phone number to which you want to send messages. To finish writing your message, followed by the captcha and click on the "Send Now" and you will be sure your message will reach its destination.
EZ FREE SMS: This is another website in English but also has an easy intuitive interface. The web address of this page is http://ezfreesms.com/smscomunity.php once you enter it you must choose the destination country, for the phone number and write the message up to 160 characters. Do not forget you do not need to fill out any registration to use the services of this website.
A FREE SMS: To send SMS through this web you must enter in the website http://www.afreesms.com and once the site is loaded, you can observe a world map where you have to click on any of the continents and then the list of countries and select the country where the mobile which you want to send the SMS. Once you have done that, a window will appear where you must place the mobile number, the text message and finally enter the captcha to submit your message.
Use any of these websites and see which will be of great help to send your SMS. It is possible that in some cases sending messages can delay a few minutes (ie depending on the operator ) but have no doubt that your messages will be delivered to your recipient. Try these options and choose the one that works best for you.
Image courtesy of "ddpavumba" / FreeDigitalPhotos.net
If you liked this page you can help us by giving us a "like" on facebook, G+, twitter, others friends will thank you .
Tags:
how to send sms by internet, how to send text messages by internet, how to send texts by internet, use internet to send sms, excellent sms tips, excellent sms advices, text messages tips, excellent free text messages advices, the best texts tips