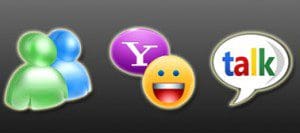 The chat, Chat Rooms, live chat, message boards :
Currently, it is the most used communication media, which is transmited between two people or a group or people, working through the internet service. These nets move around a functioning base document and a consumer or software which provides the function, like, for example, of instan messaging such as: MSN Messenger, Yahoo! Messenger, Jabber, AIM, Google Talk or from those which present an IRC (Internet Relay Chat) protocol, such as: Emule and Ares, among others.
This original communication media is so famous, that it has managed to displace the phone as an unusual communication mendia. Even the Spanish Real Academy introduced the term in the dictionary inside the informatics field, referring to it as the agroupation of scientific knowledge and systems that make possible the instantaneous process of the information communicated in a written way through computers.
Around this huge communication net, consumers tend to use nicknames to be identified or to preserve their personal information; in the same way, the usage of animated emoticons or with characters is very common among the user's conversations. Also, abreviations are used to save time and to gain facility and efficiency in the user's conversation, such as: "laughing out loud = lol", "brb = be right back", as well as the sintactic and morphologic alteration of words.
Nowadays, and as a consequence of the great technological advance, a great variety of options have been introduced; these options give more comfort in the communication of consumers, such as web cams, real time audio and video (Video – conferences), writing and sending manuscript messages and online games, among others.
The usage of this communicatio media needs some minimum requirements for the computer and it can be obtained for free on its original web site: MSN Messenger, Yahoo! Messenger,  AIM, Google Talk. If, on the other hand, you choose to not install the software, you can always go to web sites that provide those services on real time, without having to install a software in your computer, one of the most clear examples of this service are meebo or eBuddy.
On the same way, you can find several web sites that provide the instant messaging service, among which you can find Chatango, RedPlaneta, or the most used one, which is Terra, and which provides us the option of elaborating a private chat and installing it in a forum, web site or blog, to which we mostly go to in our spare time. You can also find chat servers, which are not reliable, in which the option of searching people according to certain criteria is offered; criteria such as age, sex, location, occupations, in order to be able to begin chats we identity users and unknown purposes.
This novelty service of instant messaging, has shortened the communications distances, and it allows you to chat with people from all over the world, who allow you to see them in space gaps. However, chat also has negative aspects, because there are some malicious people who use it for wrong purposes, such as scams and pornography propagation. Due to these facts, chat has followers and oppositos. Nowadays, there are evaluations for eliminating people that has secret intentions, but there is no efficient solution to erradicate this problem yet, because chat is an open service, which can be used by anyone who has access to an internet service.